Significant live cycle cost savings
Significant Life Cycle Cost and Environmental Savings with Reusable vs. Single-Use Laryngoscopes combinations
Life cycle assessement is an internationally, standardized, science based approach to quantify multiple environmental and public health impacts of a product and/or process over its entire life span, from raw material extraction, device production, transport, use and reusable and end of life disposable. It should support procurement in decision making on the real costs and environmental burden of a product.
Save up to 1.8 Mio $ per year with reusables¹
Multiple studies have shown that re-usable laryngoscopes can significally reduce costs over the course of their life cycle compaired to single-use products.
88% p.a.
1.8 Mio $ per year. Based on 60.000 intubations in Yale University per year and 4000 reprocessing cycles of reusable laryngoscope systems
85% p.a.
Greenhouse Gas Emissions (GHG) measured in CO² equivalents
The world's most reliable and best performing Laryngoscopes are more reliable than you think!
A smart investment: HEINE Classic+ Blades outlast and outperform other systems. Our Classic+ System incurs almost no operating costs and actually represent a lower investment overall when compared to "less expensive" look-alike products. This is why thousands of top institutions worldwide use HEINE Classic+ Laryngoscopes throughout their facilities.
Years of trusted service. An initial investment in the performance and reliability of HEINE Classic+ Laryngoscopes will pay off in the first several years of use, but the real value extends beyond. Today at many institutions our Classic+ Laryngoscopes are still performing reliably after 20 years or more of daily use.
In situations where you need 100% performance
HEINE Laryngoscope Blades and Handles, The Standard in Reliability and Performance
For over 70 years we have refined our Fiber Optic Laryngoscopes to provide brightly illuminated and crystal clear views for unmatched performance and reliability. We pride ourselves on never compromising in the pursuit of providing you with the best products possible by adhering to strict design standards and a dedication to precision craftsmanship honed by years of family ideals and best practices. The realisation of this commitment today is our Classic+ Laryngoscope System and the new EasyClean System, which will outperform and outlast any other product on the market. Our Classic+ and EasyClean System is held to a performance and reliability standard that no other company can match. It is a standard you can see in its construction, features, and guarantees.
Perfect View on Vocal Cords
Reliable Technology and Highest Quality
Reliable performance amids the daily rigours of cleaning and sterilisation
Reprocessing of HEINE Classic+ Laryngoscopes is an easy and validated process. To date no case of nosocomial outbreak caused by a HEINE laryngoscope is reported.
GO GREEN - Environmental Sustainability
Single-use laryngoscopes are of critical concern for the total greenhouse gas emissions considering about 46.5 million operations a year in the U.S.
The healthcare sector accounts for 10% of the United States total greenhouse gas emissions (GHG)2,3. Besides surgical care, anesthesia contributes to these emissions substantially.2,4
Therefore, many initiatives worldwide have started like "Greening the operation room"6 or "Healthier Hospitals"7 and even international standards like the "ISO 14001 Environmental Management Certification" have been established amongst hospitals.8
Considering that single-use laryngoscopes might beused for 46.5 million operations in the United States per year, single-use laryngoscope practice presents critical area of concern.5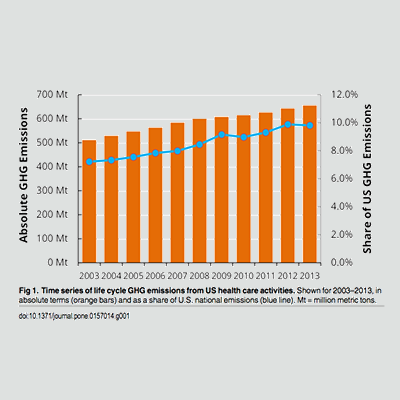 Regulated Medical Waste is 6-10 times more expensive than "normal" waste
From an environmental perspective – whether disposed directly or through reprocessing programmes offered by some manufacturers – most single-use laryngoscopes make their way into the regulatedmedical waste (RMW) stream.
Healthcare Organizations pay a premium of 6 to 10 times the amount to dispose RMW compared to the costs of solid waste.9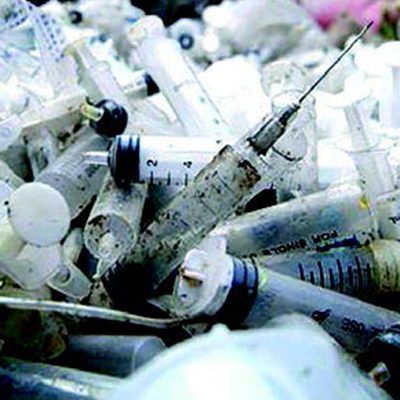 Sources:
1 Reusable versus disposable laryngoscopes environmental and economic considerations. Jodi D. Sherman, M.D., Lewis Raibley, B.Eng., Matthew Eckelman, Ph.D., Yale University, ASA 2014
2 Chung JW, Meltzer DO: Estimate of the carbon footprint of the US Health Care Sector. JAMA 2009; 302 (18): 1970-72.
3 Eckelman MJ, Sherman J. Environmental Impacts of the U.S. Health Care System and Effects on Public Health. PLoS One. 2016, 11(6): e0157014. PMID: 27280706;
4 Axelrod D, Bell C, Huncke TK, Ryan S, Striker AB on behalf of the Task Force on Environmental Sustainability Committee on Equipment and Facilities of the American Society of Anesthesiologists (ASA): Greening the Operating Room and Perioperative Arena. Environmental Sustainability for Anesthesia Practice.
5 Sherman JD, Raibley L, Eckelman M. Reusable versus disposable laryngoscopes: environmental and economic considerations. Presented at: Anesthesiology 2014; October 11–15, 2014; New Orleans, Louisiana. Abstract # 2171. and RISE:2014, Abstract #255 - Poster accessed on FEB 15th 2017
6 practicegreenhealth.org/initiatives/greening-operating-room
8 certificationeurope.com/iso-14001-environmental-management-certification/
9 Medical Device Reprocessing, www.practicegreenhealth.org; Implementation Module: Medical Device Reprocessing, page2 (2011)