Two new dermatoscopes from HEINE Optotechnik
Crystal clear images for dermatoscopic examination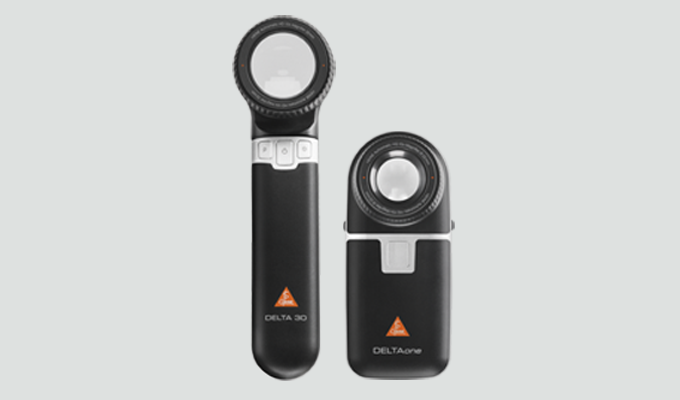 HEINE Optotechnik is showcasing two dermatoscope models that have had their design and technology completely overhauled and that meet the highest quality standards: the DELTA 30 and the DELTAone. The 30 mm field of view of the DELTA 30 dermatoscope and the best imaging provided by all HEINE dermatoscopes offer doctors perfect support in their diagnostics work. The smaller DELTAone is very well suited to being carried around in a pocket and features impressive optics – both when looking through the eyepiece and in terms of design.
The new, perfectly optimised achromatic optical systems in both instruments ensure crystal clear images. Three different degrees of luminous intensity to choose from and the convenient toggle function for switching between polarised and non-polarised illumination make working a more pleasant experience. The instruments also feature extraordinary colour rendering, since only HEINE quality LEDs (LEDHQ) are used in the illumination. The autoclavable contact plate with scale rounds off the product features in the new generation of DELTA dermatoscopes.
DELTA 30 – the ergonomic high-end dermatoscope
In spite of its large optical system that provides a real field of view of 30 millimetres – not including the edge cover – the device feels surprisingly light and sits perfectly balanced in the hand. The angled product design, developed with ergonomic aspects in mind, also translates into good handling. www.heine.com/en/DELTA30
DELTAone – the small and handy constant companion
The DELTAone, featuring a free field of view measuring 21 millimetres, unites mobility and diagnostic precision. The dermatoscope will be available in black/silver and white/silver variants for the product launch. Please click on the following link for more information: www.heine.com/en/DELTAone.
Making digital documentation an absolute breeze
Both dermatoscopes can be used for digital documentation purposes with an iPhone* from version 6 upwards and the exclusive HEINE DERM App. Matching dock adapters for iPhones are available for this purpose.
The app allows users to digitally create new patient files, manage and archive pictures, and save serial documentation of progression over time. The software is easy to install and simple and flexible to use. The HEINE Cube System**, which enables image and data management for up to 10 HEINE dermatoscopes, is ideal for conveniently expanding image management activities.
The two new instruments will be released just in time for the 30th anniversary celebrations of HEINE's invention of the dermatoscope. The company launched the world's first handheld dermatoscope, the HEINE DELTA 10, on the market in 1989.
* The Apple iPhone is not included in the scope of delivery. Apple, the Apple logo and iPhone are registered trademarks of Apple Inc. in the USA and other countries. App Store is a service mark of Apple Inc.
** Not available in all countries
Heine– Quality made in Germany
As a global leader in the manufacture of primary diagnostic instruments with over 500 employees, HEINE Optotechnik has been a 100 % family owned and managed company for more than 70 years. We continue to develop and manufacture HEINE instruments at our facilities in Germany, where we combine decades-long experience and craftsmanship with the most modern manufacturing technologies.
We are represented in over 120 countries around the world, with subsidiaries in Australia, the US and Switzerland as well as 3,000 representatives, importers and specialist dealers. www.heine.com
Press Contact:
Beatrix Balsiger
PR & Marketing Communications Manager
Tel: +49 (0)8152/38-0
E-Mail: press@heine.com
HEINE Optotechnik GmbH & Co. KG
Kientalstr. 7
82211 Herrsching
Quick question. Great help.
We would like to customise our website even better for our visitors.
Please specify your field of business:
The information I provide will be stored in accordance with data protection regulations.