HEINE announces NEW OMEGA 600
The most lightweight high-end indirect ophthalmoscope on the market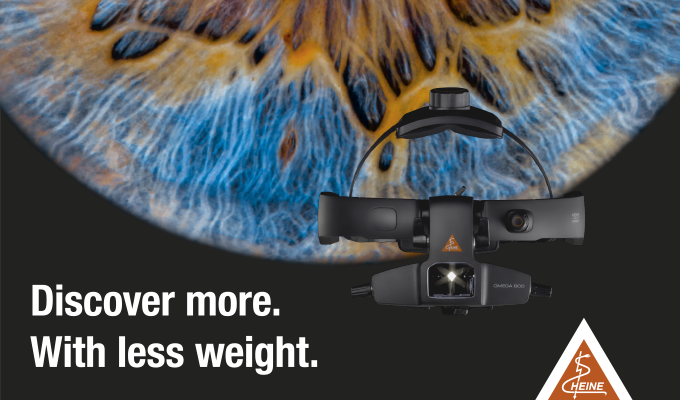 Gilching, Germany (January) 2021 –
HEINE is kicking off 2021 by announcing the launch of its newest indirect ophthalmoscope, the OMEGA 600. Several innovations set the OMEGA 600 apart in this category, including an entirely new design that makes it the lightest high-end indirect on the market courtesy of a new ultralight battery. The other new features are HEINE's new visionBOOST technology, which significantly improves retina exams for cataract patients and a sophisticated surface design for easy cleaning and disinfection. As a result, the OMEGA 600 is ideal for both the provider and the patient. HEINE offers a five-year warranty on the quality of its materials, workmanship, and design. Available in the United States and Canada from January 2021, and globally May 2021.
VisionBOOST is an innovation, developed by HEINE, that will improve a provider's ability to examine cataract patients. This new feature which can be adjusted gradually, enables an up to 20-percent better view of the retina, and provides both the patient and the provider with a more tolerable light intensity during examination.
Dr. Maximilian Wintergerst from University Hospital Bonn's Department of Ophthalmology put visionBOOST to the test. In his words, "In most patients examined, the new function improved the view in presence of mild and moderate cataract. In principle, this was the case for all cataract sub-types (nuclear / cortical / posterior according to the LOCS III classification).
In the case of well-defined, stronger, small opacities (beginning cortical / posterior cataract), the view improved noticeably when examining the respective affected fundus area. Very small opacities almost completely disappeared thanks to the brightness boost.
In eyes with predominantly nuclear sclerosis, the boost function resulted in a generally sharper and higher contrast image."

HEINE relies on high-grade LED quality for the OMEGA 600 in order to achieve bright and homogeneous illumination for the fundus with realistic color rendering.
Three filters are available based on the diagnostic needs: yellow, blue, and red-free.
Extra Charging Set for Mobile Use

The OMEGA 600 can be conveniently recharged with a wall charger or, alternatively, by USB cord. In addition, a charging set is offered for constant or mobile use. Consisting of a charging case and a battery, the set provides a second, mobile source of power to quickly replace an empty battery if needed.
More information:
Product information
Product video

Press Contact:
Beatrix Balsiger
PR & Marketing Communications Manager
Tel: +49 8105 7728 0
E-Mail: press@heine.com
Quick question. Great help.
We would like to customise our website even better for our visitors.
Please specify your field of business:
The information I provide will be stored in accordance with data protection regulations.