Modern head office
All the critical company operations under one roof: from development to delivery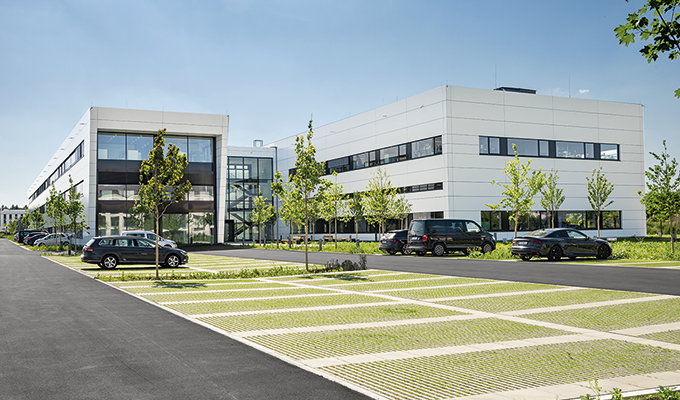 Gilching, June 2020
The family-run business has tapped into a whole host of synergies and improvements by relocating the entire company from Herrsching about 20 kilometres away to Gilching. All the corporate divisions (such as Development, Tool Construction, Optics and other production-related divisions), plus Administration, are now even better connected. For the diagnostic instruments that HEINE manufactures (including ophthalmoscopes, dermatoscopes and otoscopes), HEINE invested in a brand-new electroplating plant for surface coating. In doing so, HEINE is holding true to its strategy of producing as much as possible both internally and within Germany. Despite the move taking place under difficult conditions caused by the COVID-19 crisis, under which employee safety had to be guaranteed above all else, HEINE largely maintained its ability to deliver. The new building in Gilching scores top marks for its eco-friendly equipment and a spacious company restaurant.
'We had to move 240 large machines in total from Herrsching and Breitbrunn to Gilching. The heaviest of the machines, which weigh in at more than 40 tonnes, were sent out on the road at night and transported to the new site via specially selected routes,' remarked CEO Oliver Heine, looking back at the moving period, during which each division was relocated to the new site in stages. He is proud of the fact that not a single machine was down for more than two days thanks to the well prepared relocation logistics.
HEINE's move also goes hand in hand with substantial synergy effects, as it previously operated at five different sites in Herrsching and Breitbrunn. All the locations have been bursting at the seams for some time now.
Insourcing instead of outsourcing with the 'Made in Germany' label
'We attach a great deal of importance to keeping development and production expertise in-house. This continues to be a key element in our strategy that enables us deliver the high quality our customers expect from our instruments and also bring product innovations to market quickly,' explained Oliver Heine.
The med tech manufacturer makes most of the parts for its diagnostic instruments itself: in the Optics production division, in Metalworking, in Tool Construction, in Plastics Production or in the in-house electroplating plant. HEINE sources 75% of its raw materials and components from suppliers that are based not only in Germany, but more specifically from the local region. For years, the company has invested heavily in 'insourcing' instead of outsourcing production, and it was precisely this approach that allowed HEINE to swiftly satisfy the increased demand for laryngoscopes brought about by the COVID-19 pandemic.
At the new site, communication between the individual divisions has improved thanks to shorter distances. Development, Purchasing and Production, for example, all coordinate closely with one another. The close collaboration among all the divisions involved during the development process forms the foundation of quickly and efficiently bringing new product developments to the start of series production. This allows customer requirements to be addressed promptly – which is a crucial competitive advantage in a challenging market environment.
Modern, eco-friendly building technology
The new building, which represents an investment of approximately €40 million, is located in 'Gewerbepark Gilching Süd', a relatively new industrial park, in a rapidly growing community. The new company premises' proximity to the old company site along with good transport connections played a key role in selecting a suitable site.
The new building provides excellent working conditions for roughly 400 employees who work on site. The building complex is temperature controlled using eco-friendly systems and is automatically supplied with fresh air. The office workstations boast brand-new equipment, have back-friendly, height-adjustable desks and a bright, spacious restaurant offers employees a choice of freshly prepared lunches and snacks every day.
A great deal was also invested in the production buildings. The two-storey production hall benefits from full air conditioning. Not only does this increase process reliability; it also enhances employee comfort for machine operators – especially in warm summer temperatures. The state-of-the-art electroplating plant for coating the instrument surfaces is brand new and meets the most stringent safety and environmental regulations.
HEINE – Quality made in Germany
As a global leader in the manufacture of primary diagnostic instruments with over 500 employees, HEINE Optotechnik has been a 100% family owned and managed company for more than 70 years. HEINE continues to develop and manufacture instruments at its facilities in Germany, where it combines decades-long experience and craftsmanship with the most modern manufacturing technologies.
HEINE is represented in over 120 countries around the world, with subsidiaries in Australia, the US and Switzerland as well as 3,000 representatives, importers and specialist dealers.
Press Contact:
Beatrix Balsiger
PR & Marketing Communications Manager
Tel: +49 8105 7728 0
E-Mail: press@heine.com