The new HEINE DELTAone Dermatoscope
Mobility and quality have now become one.
HEINE DELTAone Dermatoscope
Small on the outside, huge on the inside – optical premium quality has never been handier.
The crystal-clear image was accomplished using the unequalled new achromatic HEINE optical system. And what's more, it also has extraordinary colour rendering due to the quality of our LEDHQ. Because skin cancer screenings in particular depend on minute colour shades in red, brown and even blue. Examinations are now particularly comfortable due to the polarisation allowing doctors to work glare-free and without disrupting reflections.
The highlight: no matter what distance you prefer between your eyes and the eyepiece while working, the image is almost distortion-free. These three features – clarity, LEDHQ and nonreflective working – are what turn the DELTAone into a vital tool to carry in your pocket wherever you go.
Of course, the DELTAone can also be used with an iPhone* for digital image documentation. All you need to do is download the exclusive HEINE DERM app, and you're good to go: Creating and managing patient files and saving pictures. And what's more, it has a field of view of 21 mm, custom light intensity in 3 degrees of luminous intensity and a maintenancefree dustproof design. And of course the toggle function for switching between polarised and non-polarised light.
Once you have picked it up, you probably won't want to put it down again.
More features
Switch between polarised and non-polarised light at the touch of a button
Field of view of real 21 mm (lens 22 mm)
10x magnification
Fits into any pocket
Custom light intensity: 3 degrees of luminous intensity
No cross-contamination: autoclavable contact plate with scale
Maintenance-free due to our dustproof design
Operate with just one hand: individual focusing dioptre compensation approximately -4 to +4 dpt
Small on the outside. Big on the inside.
HEINE DERM App
Documentation and management of dermatoscopic pictures
Realistic detail and colour rendering of the examined areas of the skin
Simple assignment of the photos on a bodymap
Image transfer over a sharing extension
Download on the App Store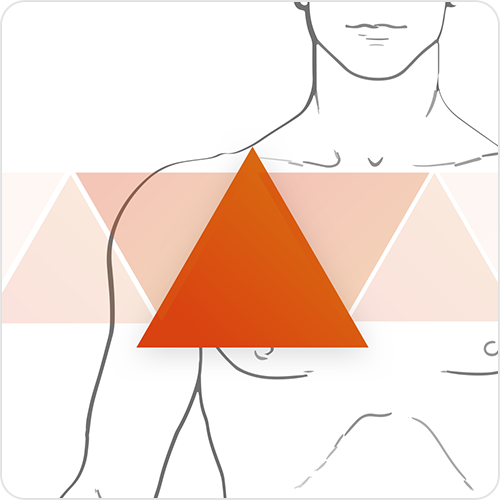 HEINE Cube App
Access current patients and worklist from your iPhone
Keep relevant patient information at your fingertips
Organize your medical images - safe and fast
Document your patients progress in image series
Download on the App Store
HEINE Compendium of Dermatoscopy
Skin has so many stories to tell.
You just need to be able to read them.

Our Compendium of Dermatoscopy is designed to support you in this endeavour – by providing information about various differential structures and colours in the dermatoscopic images and details on what they are assigned to, among other things.
Previously, a printed copy of this Compendium of Dermatoscopy was only enclosed with a new HEINE dermatoscope. But we are now making a downloadable copy available to doctors and medical students to make it accessible to a broad specialist audience. Of course, you are also more than welcome to order the compendium by post too.
Or do you prefer it printed?
**Not available in all countries.