Kitesurfing sponsorship for skin cancer prevention
Skin cancer prevention has always been at the heart of HEINE: Helmut A. Heine, founder of the company and grandfather of the current owner, invented the first dermatoscope in collaboration with dermatologists.
Kitesurfing is a demanding sport that exposes the skin to water, wind and especially the sun all day long. Excessive exposure to the sun (UV radiation) can damage the skin and at worst case, lead to skin cancer.
In the world of kitesurfing, siblings Camille and Capucine Delannoy are among the best: Both have impressive achievements in kitesurfing competition.
When enthusiastic kitesurfers Oliver Heine and Bettina Seim, met the two siblings while on vacation in Prea, Brazil, the idea of sports sponsorship was born. They decided to support the two kitesurfers to raise awareness for skin cancer prevention during kitesurf cups worldwide.

Camille Delannoy is a professional kitesurfer who competes in the GKA Kite-Surf World Tour. Born in France, his family moved to Prea in Brazil. Right in front of their own door, he and his sister had very good training conditions with warm water and wind every single day.
Camille starting kitesurfing when he was 12 years old and became professional at 16 years old. Since then, he has been travelling and training for international competitions. Alongside this, Camille is studying online and currently completing a master in Business analytics.

Capucine Delannoy followed her brother into the profession and competes on the GKA Kite-Surf World Tour. Capucine started kitesurfing at 7 years old and competed for the first time at 12. She always knew she wanted to become the World Champion. Her goal was achieved twice; in Tarifa, Spain, where she became the 2022 Big Air World Champion, and 6 months later in Brazil, she became the Kitesurf World Champion at only 16. What Capucine enjoys the most in Kitesurfing is pushing the limits: not only her own but also the limits of the sport. Away from training, Capucine is still a teenager, and is currently in high school studying online.
"This partnership is for me a way to raise awareness about sun protection and especially for outdoor enthusiasts. I love sports and am outside all day long either kitesurfing or doing any kind of activity (surfing, running, working out, etc…). Putting sunscreen on has become a reflex for me and we think it should be this way for everyone."

- Camille Delannoy

"I have been exposed to the sun at a very young age; it has almost been 9 years altogether since I spend most of my days kitesurfing under the sun.
However, using sunscreen has always been a reflex for my brother and I. We are very happy to have the opportunity to raise awareness about this."


- Capucine Delannoy
Five sun protection tips for outdoor sports
Tip No. 1: Apply sunscreen.
Sun radiation increases by 25% near water and this is why sun protection is really a must.
Use sunscreen consistently and reapply it often, depending on how intense the sun is and particularly after spending time in the water. Above all, make sure that the lotion is waterproof and has a very high sun protection factor.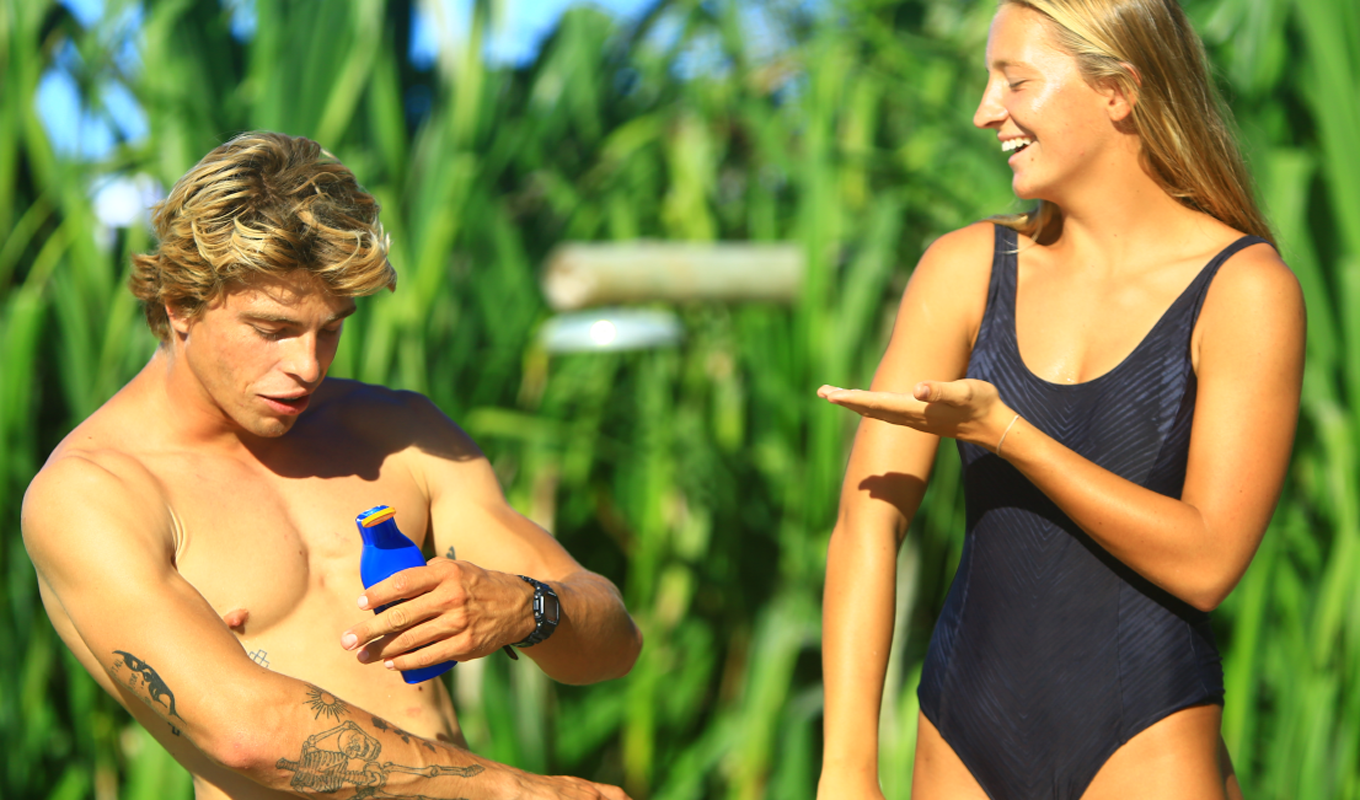 Tip No. 2: Wear a T-shirt!
Sunscreen helps to keep sunburn at bay, but clothes are an extra layer of protection. Light fabrics like cotton or linen still allow a lot of UV radiation to get through to the skin. Have you already tried sun protection clothing?

Tip No. 3: Seek the shade.
Around noon, harmful UV radiation is at its strongest. It is best to avoid it altogether.

Tip No. 4: Check your skin!
And do it regularly, from head-to-toe. Anything that is new, changing or unusual is suspicious. Anything that increases in size and changes colour or texture. Also watch out for sores: if it does not heal within three weeks, go and have this checked by a dermatologist! Learn how to perform a skin self-exam.

Tip No. 5: Visit a dermatologist.
Have you had a skin check-up yet? Your dermatologist will perform a full-body skin exam to check any irregularities and will define how often you should have your skin screened.