HEINE BETA 200 LED Ophthalmoscope
Ophthalmoscope with outstanding durability
Accurate diagnosis at first glance. Direct ophthalmoscope with special optical system that provides a particularly clear and bright image of the fundus. Sturdy and handy – ideal for mobile use. 7 different apertures – always the right setting for different examination situations. Particularly bright and dimmable due to
LEDHQ
with virtually unlimited working life – no need to ever exchange the LED.
Reliable diagnosis
Optimum illumination
Exceptional durability
Easy to use
Flexible power source options
More
1. Reliable diagnosis
Clear, bright and non-reflective image due to AOS (Aspherical Optical System)
No light reflections, since the illumination beam and the observation path are separate
The instrument head fits precisely to the eye socket, blocking out ambient light
Good refractive compensation due to 27 single step design on the non-continuous lens wheel (- 35 to + 40 D)
6 different apertures – can also be used with red-free filter
​​​​​​​
2. Optimum illumination
Patented and exclusive continuous dimmability between 3 and 100%
No stray light thanks to the recessed, multi-coated viewing window
Particularly bright due to LEDHQ

3. Exceptional durability
Maintenance-free use due to dustproof design
Impact-resistant due to a cast aluminium frame that the optical components are embedded in
No need to ever exchange the LED thanks to LEDHQ
4. Easy to use
Instrument can be operated with one hand
Flexibility during the examination due to the ergonomic design
5. Flexible power source options
Rechargeable battery: with USB or table charger
Full functionality of the BETA 200 LED is guaranteed with the current BETA rechargeable handles and the EN 200 / EN 200-1 wall transformers.
Catalogue Number: C-011.28.388
More details
BETA 200 LED Ophthalmoscope, BETA4 USB rechargeable handle with USB cord and plug-in power supply
Documents
Show documents
Further articles / Accessories HEINE BETA 200 LED Ophthalmoscope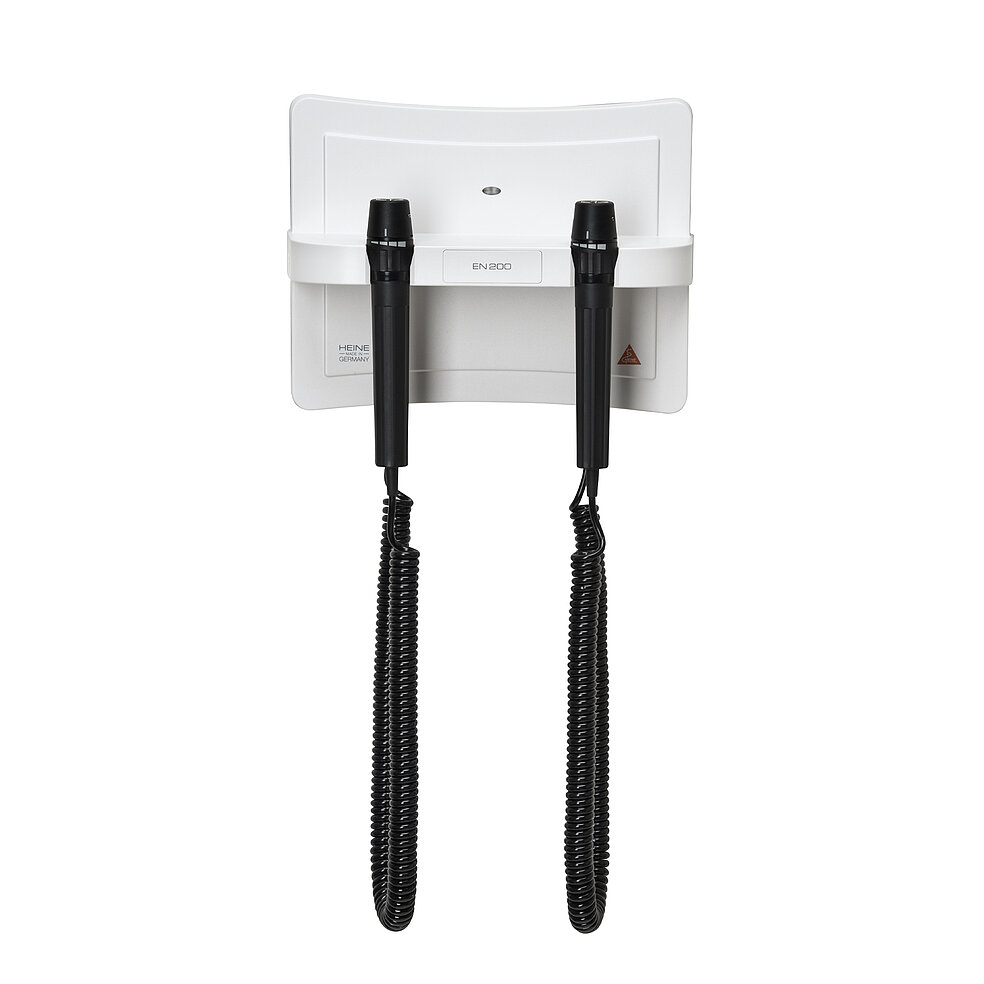 EN 200 Wall Transformer without instruments
X-095.12.250
FAQ - Frequently Asked Questions
What lens range does the HEINE BETA200 LED Ophthalmoscope offer?
The BETA 200 Ophtalmoscope offers a lens range of 27 lenses from -35 D to +40 D.
How do I change the light source in my HEINE BETA200 LED Ophthalmoscope?
The HEINE LEDs feature an extremely long durability, sustaining their illumination quality throughout the whole product life time. Therefore an exchange of the LED is not necessary.
What handles can be used with the HEINE BETA200 LED Ophthalmoscope?
The HEINE BETA200 LED can be used with all HEINE BETA rechargeable handles.
Find­ a­ distributor
Are you interested in one of our products?
Find a distributor near you quickly and easily.
We live and breathe quality. In everything we do. Every product we make. Every lens we polish. Every screw we tighten. Every optic fiber we bundle. Always. Every day. The durability of our primary diagnostic instruments is legendary. Every single instrument is the result of decades of product development, continuous improvements, production and a 100% quality control in our own facilities. We make certain that our high expectations of quality are maintained.
Quality Made in Germany