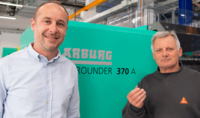 HEINE News - November 2022
HEINE expands in-house production operations
The Plastics Production at HEINE has received two new machines in recent months. HEINE is thus further expanding its in-house production operations and remains independent of suppliers with respect to disposable items like laryngoscope blades and ear speculums for otoscopes.
Read more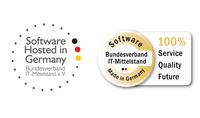 HEINE News - November 2022
Software made in Germany
We developed the software for the new HEINE DERManager in Germany. Hosting also takes place on German servers. In recognition of this solution, our product was awarded the 'Software made in Germany' and 'Software hosted in Germany' quality seals by Bundesverband IT-Mittelstand e.V. (BITMi, the German Federal Association for IT SMEs). Both data storage and the software are subject to German law and associated with a high level of security for customer data.
'Made in Germany' is an international symbol indicating the highest qualityHEINE is very committed to this slogan and always relies on sophisticated design, high-quality product workmanship and expert customer service and has done for a number of years now.
More informationen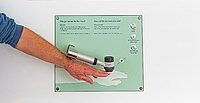 HEINE News - July 2022
Interactive exhibition with HEINE diagnostic instruments
World premiere on 8 July 2022: HEINE diagnostic instruments can now be experienced live in a museum. In the completely redesigned, modern health exhibition at the Deutsches Museum in Munich, visitors can examine their skin with a HEINE dermatoscope or give themselves a doctor's perspective when looking through a HEINE otoscope. HEINE Optotechnik has donated the items to the museum. As a company we are delighted to accompany visitors on their journey through the body with our instruments.
On an incredible 20,000 square metres, the Deutsches Museum presents exhibitions ranging from atomic physics to robotics, making it an attraction for tourists to Munich and for all those interested in natural sciences.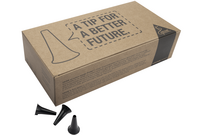 HEINE News - March 2022
HEINE AllSpec disposable tips – now made of recycled material
Sustainable EcoTips for otoscopes – with no difference whatsoever in examination quality
Plastic medical disposable products are advantageous in everyday practice. They are immediately ready for hygienic use, and they save time too since there's no need for reprocessing. On the flip side, doctors' surgeries and hospitals around the world produce lots of environment-polluting waste.
Read more
HEINE News - October 2021
HEINE Optotechnik – Change in management
HEINE Optotechnik Managing Director Timo Martin (COO) is taking over the Commercial division with immediate effect in addition to managing the Technical division.
Read more
HEINE News - July 2021
HEINE Optotechnik – the (hidden) med tech champion of the last 75 years
What started out three quarters of a century ago with a small workshop in Herrsching am Ammersee has long since evolved into a modern med tech company that supplies high-quality instruments to clinicians all over the world from the USA to Japan. HEINE Optotechnik celebrated its 75th anniversary in April 2021.
Read more
HEINE News - May 2021
HEINE announces new OMEGA 600 the most lightweight high-end indirect ophthalmoscope on the market
HEINE launches its newest indirect ophthalmoscope, the OMEGA 600. Several innovations set the OMEGA 600 apart in this category, including an entirely new design that makes it the lightest high-end indirect on the market courtesy of a new ultralight battery. The other new features are HEINE's new visionBOOST technology, which significantly improves retina exams for cataract patients and a sophisticated surface design for easy cleaning and disinfection. As a result, the OMEGA 600 is ideal for both the provider and the patient. HEINE offers a five-year guarantee on the quality of its materials, workmanship, and design.
Read more
HEINE Press Release June 2020
Modern head office - All the critical company operations under one roof
The family-run business has tapped into a whole host of synergies and improvements by relocating the entire company from Herrsching about 20 kilometres away to Gilching. All the corporate divisions (such as Development, Tool Construction, Optics and other production-related divisions), plus Administration, are now even better connected. For the diagnostic instruments that HEINE manufactures (including ophthalmoscopes, dermatoscopes and otoscopes), HEINE invested in a brand-new electroplating plant for surface coating.
Read more
HEINE News
GOOD DESIGN® Award 2020 for HEINE Dermatoscopes
Both the HEINE DELTA 30 and DELTAone dermatoscopes have been awarded the 2020 GOOD DESIGN® Award in the "Medical" category. This program selects the most innovative and cutting-edge industrial, product, and graphic designs produced around the world.

We are very happy about this distinction and we are proud that not only we provide HEINE dermatoscope users with instruments that meet the highest quality and function standards but that also come in a modern and award-winning design.
Read more
HEINE Press Release October 2019
Two new dermatoscopes from HEINE Optotechnik
HEINE Optotechnik is showcasing two dermatoscope models that have had their design and technology completely overhauled and that meet the highest quality standards: the DELTA 30 and the DELTAone. The 30 mm field of view of the DELTA 30 dermatoscope and the best imaging provided by all HEINE dermatoscopes offer doctors perfect support in their diagnostics work. The smaller DELTAone is very well suited to being carried around in a pocket and features impressive optics – both when looking through the eyepiece and in terms of design.
Read more
Quick question. Great help.
We would like to customise our website even better for our visitors.
Please specify your field of business:
The information I provide will be stored in accordance with data protection regulations.