10 Tips for Buying Loupes and Headlights
Loupes & Headlights – What are the selection criteria?
Binocular loupes are used for example in dentistry, surgery, dermatology, ENT medicine, and veterinary medicine. In combination with headlights, they make it easier for doctors to perform more accurate and precise work because even fine details can be seen with good precision optics. Loupes and headlights can be worn either on a spectacle frame or with a headband - depending on personal preference.
Many doctors who have found a pair of magnification loupes that are ideal for them no longer want to do without them. They become a 'standard tool' in their daily work. However, unlike most other medical devices, loupes are designed to suit an individual and their specific working position. Therefore, a high value should be placed on selecting the correct configuration of your own binocular loupes to ensure they enable you to work with the correct posture.
Loupes
Depending on the application there are key criteria which should be considered when selecting a suitable binocular loupe: magnification, working distance, angle of declination and the quality of the optics. All of these should lead to a perfect view and better ergonomics while working.
Tip N°1: Choose the right magnification
As a general rule, the highest magnification is not necessarily the best. Lower magnification allows for an easier hand-eye coordination. It also makes it easier to work effectively with the magnifier, because a lower magnification results in a larger field of view and a greater depth of field.
Anyone who has not yet worked with loupes should definitely start with a 2.5x magnification since it is easier for starters to get used to working with a magnified view.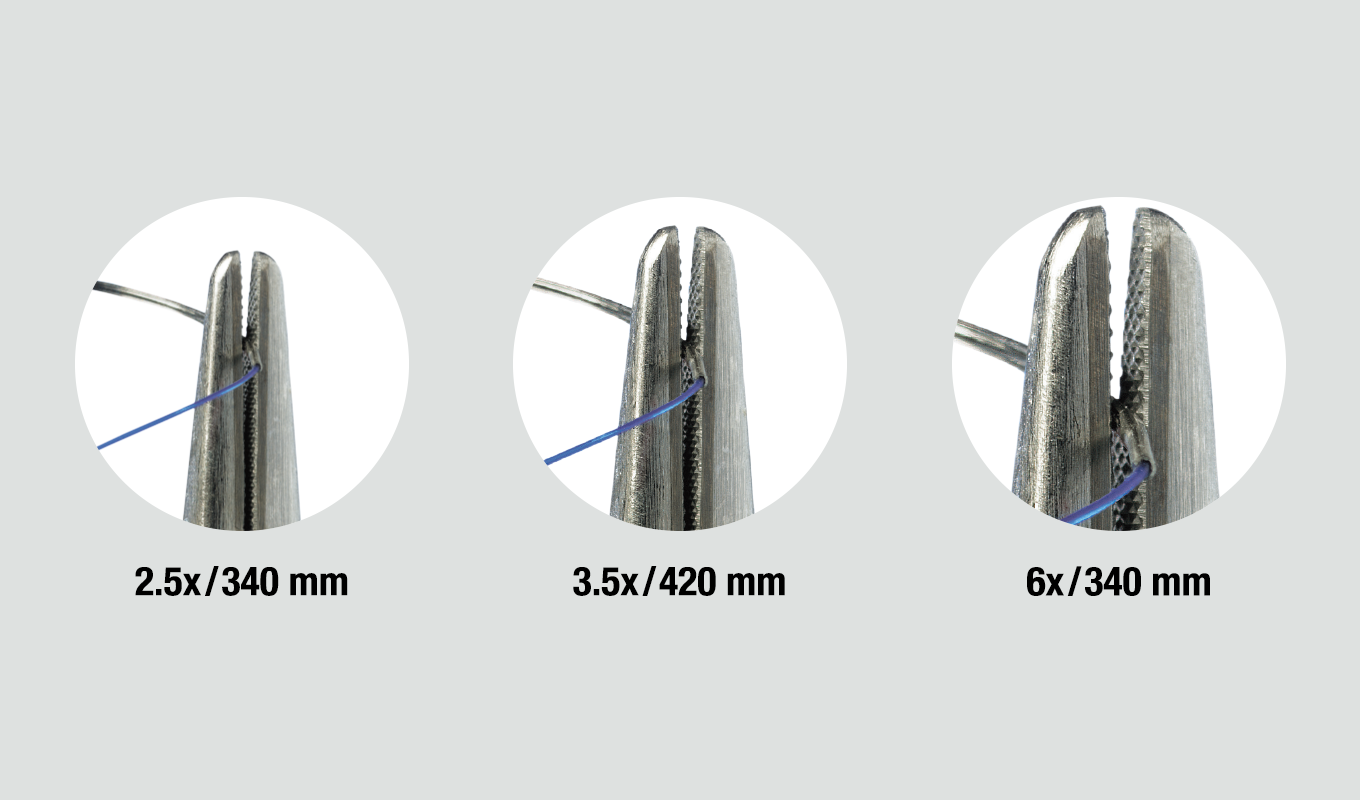 Magnifications commonly used for the following medical applications:
Specialty
Magnification
Field of application
ENT
2.5x
Diagnosis and treatment of ears and nose
Surgery
2.5x, 3.5x, 4.0x
Plastic and reconstructive surgeries, transplantations, wound sutures
Ophthalmologist
2.5x
Plastic and reconstructive operations, such as blepharoplasty
Dentist
2.5x
Restorations, implantology, periodontology surgical procedures, also during tooth cleaning
Dentist
3.5x, 4.0x
Restorations in detail, e.g. preparation of margins endodontics
Dentist
6x
Endodontics
Veterinary medicine
2.5x
Cleaning of the oral cavity, urinary tract operations
Tip N° 2: Select your individual working distance
The term "working distance" refers to the distance from the eye to the working area at which a sharp image becomes visible. For example, taller people who work standing up need a longer working distance than smaller people who operate or examine sitting down. The working distance can easily be measured with a tape measure (distance from the eye to the optimal working area).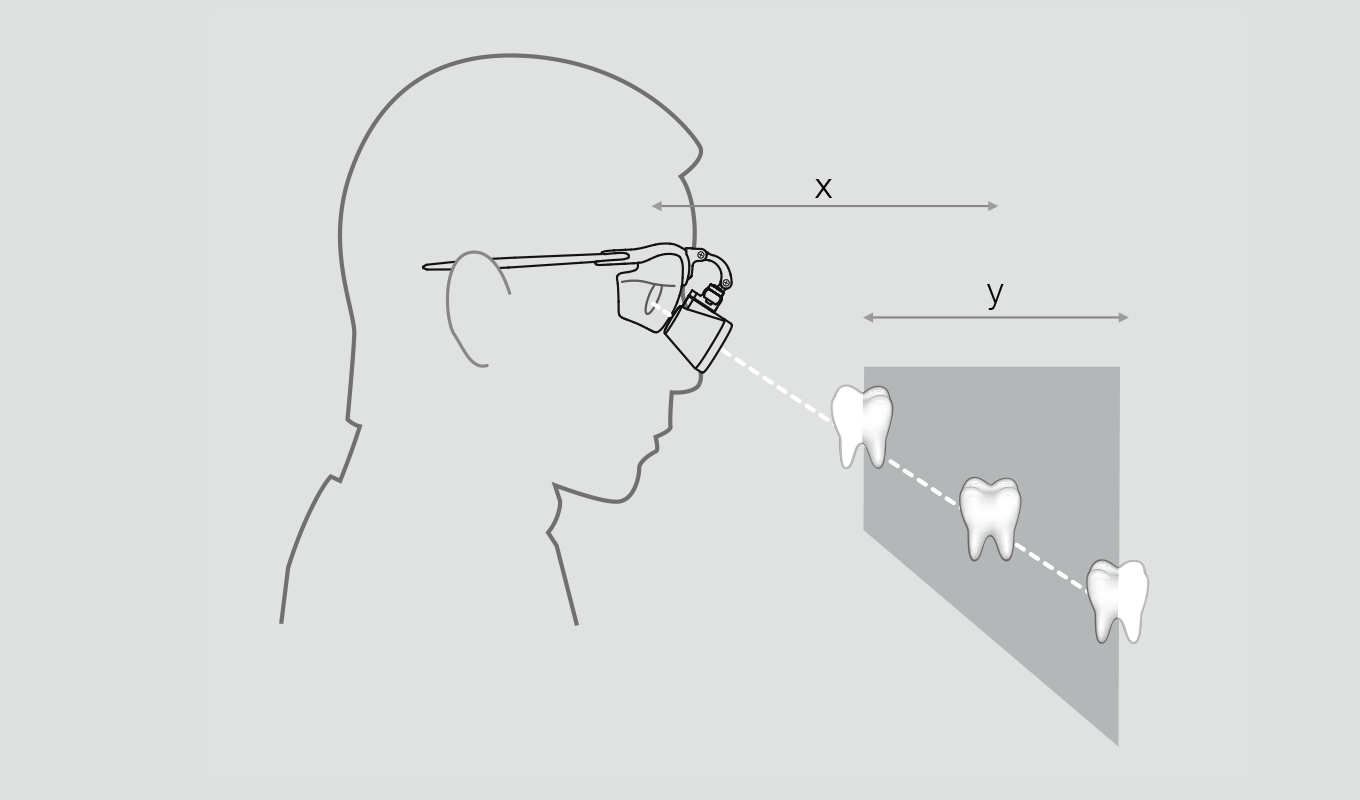 Working distance with HEINE binocular loupes: 340, 420 and 520 mm
Tip N° 3: For an ergonomic, working posture, make sure to get the right angle of declination
This term refers to how 'steep' or 'shallow' you can position the optics when being worn. The most ideal angle of declination is one where the user has an upright and relaxed neck and back posture, causing no excessive strain. It is variable depending on the size of the user and working position (sitting or standing).
Some suppliers offer loupes with an adjustable angle of declination. It is important that the angle can be adjusted steeply enough, as is the case with HEINE loupes.
An ergonomically correct and comfortable posture is achieved by perfectly adapting the working distance and angle of declination to the user. And a good posture is probably the best prevention of back and neck pain.
---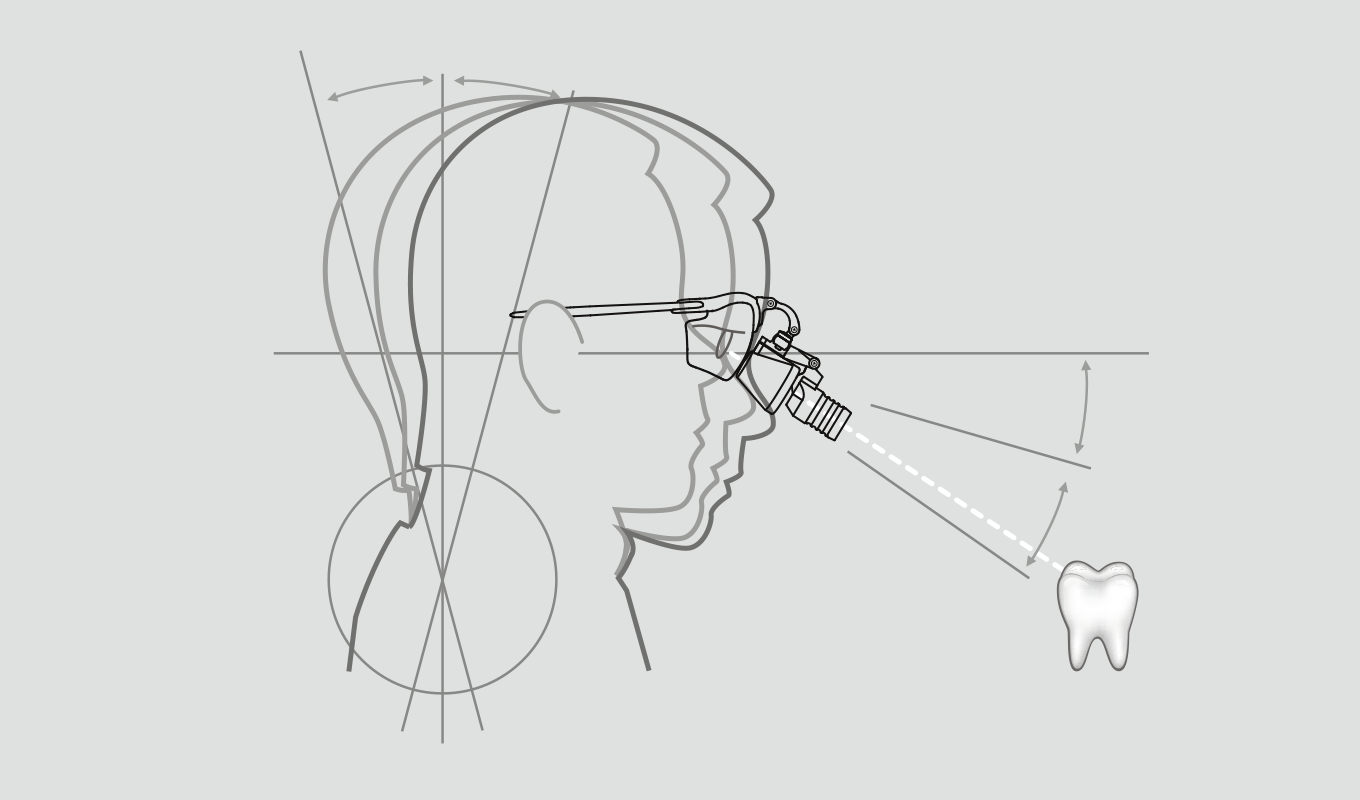 TTL-Loupes - Adapted to the user, but not very flexible
A number of manufacturers offer TTL (Through-the-Lens) loupes, in which the loupes are incorporated into the lenses. These eyeglasses must be precisely matched to the user at the time of purchase. They can then usually not be used by other people due to the individual pupil distance settings. Binocular loupes such as the HEINE HR & HRP range allow for individual adjustment of pupillary distance so they can be adjusted to suit different users.
Just like the need to adjust your chair throughout the day, having a pair of loupes that provide an angle of declination adjustment means you will always be working with the most ideal posture, regardless of the procedure. HEINE loupes allow for this through their flexible design compared to fixed 'TTL' magnifiers which can restrict you to one position.
Tip N°4: Quality of the optics
It is worth buying quality optics. Among other things, they allow sharp magnification without unintentional colour gradients at the boundary of the field of view (rainbow effect).
- HEINE HR: High-resolution achromatic optics with excellent optical properties.
- HEINE HRP: High-resolution prismatic optics with excellent optical properties for 3.5x magnification and higher.
---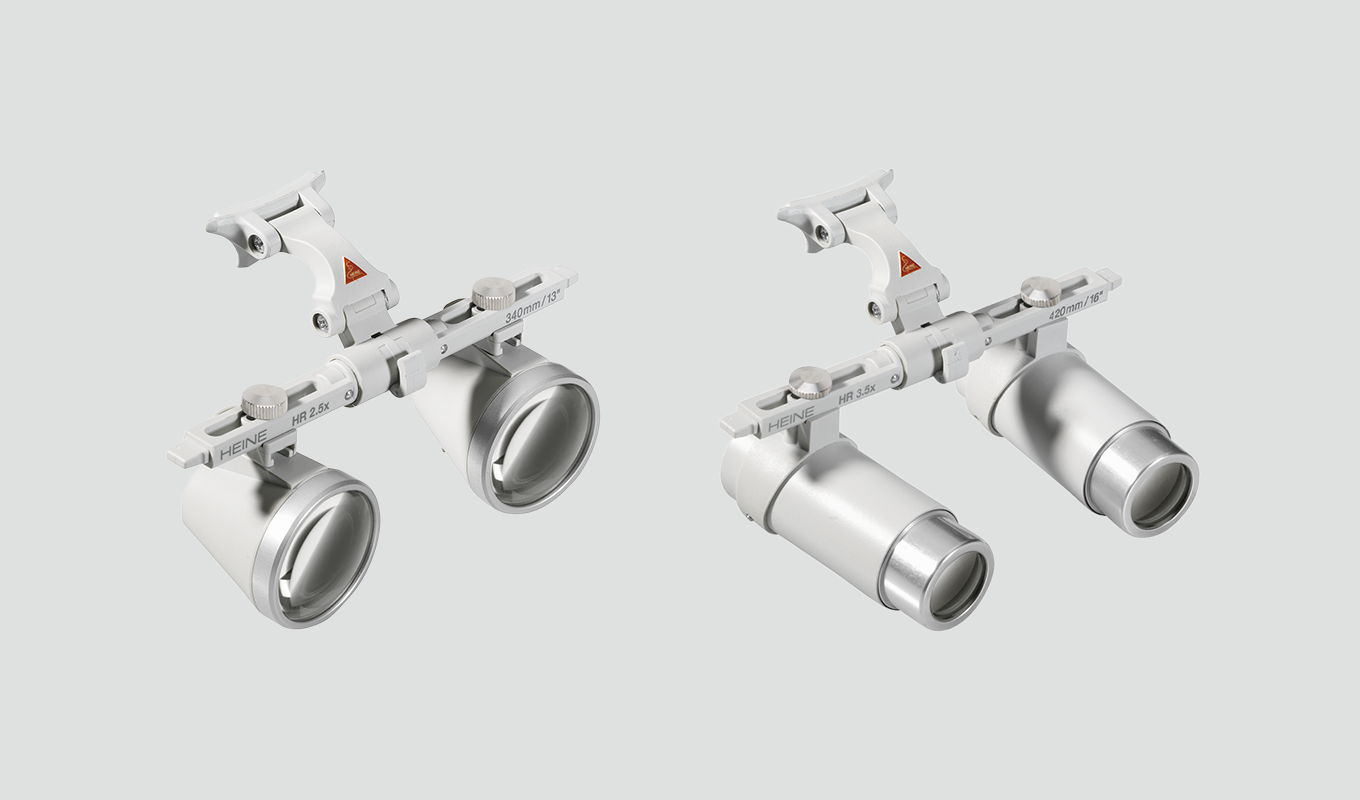 Headlights
Wherever the existing lighting is not sufficient, it is advisable to extend the loupes with a headlight. When selecting a loupe, the quality of the light and the orientation of the light source in relation to the binocular loupe are the most important factors.
Tip N°5: Orientation of the light source
The head lamp should be aligned coaxially with the loupes, i.e. the light source and the loupes should lie on a common axis towards the field of view. This ensures that the headlamp illuminates the field of vision optimally and never casts a shadow.
HEINE Loupes for example allow the light axis to be individually adjusted to the loupe axis and thus enable perfect alignment according to personal preference.
Tip N°6: Light quality makes a difference
High-quality LEDs produce an almost natural colour rendering, similar to daylight. Frequently used low-cost LEDs have a too-high proportion of blue in the spectrum and falsify the natural colour impression. Essential for correct work: Bright illumination of the field of vision, which represents the entire light cone evenly bright (homogeneously) and without shadows up to the edge. The decisive factor is the quality of the illumination and not a lux value.
HEINE instruments are equipped with LEDHQ - for extremely high colour rendering in the field of vision.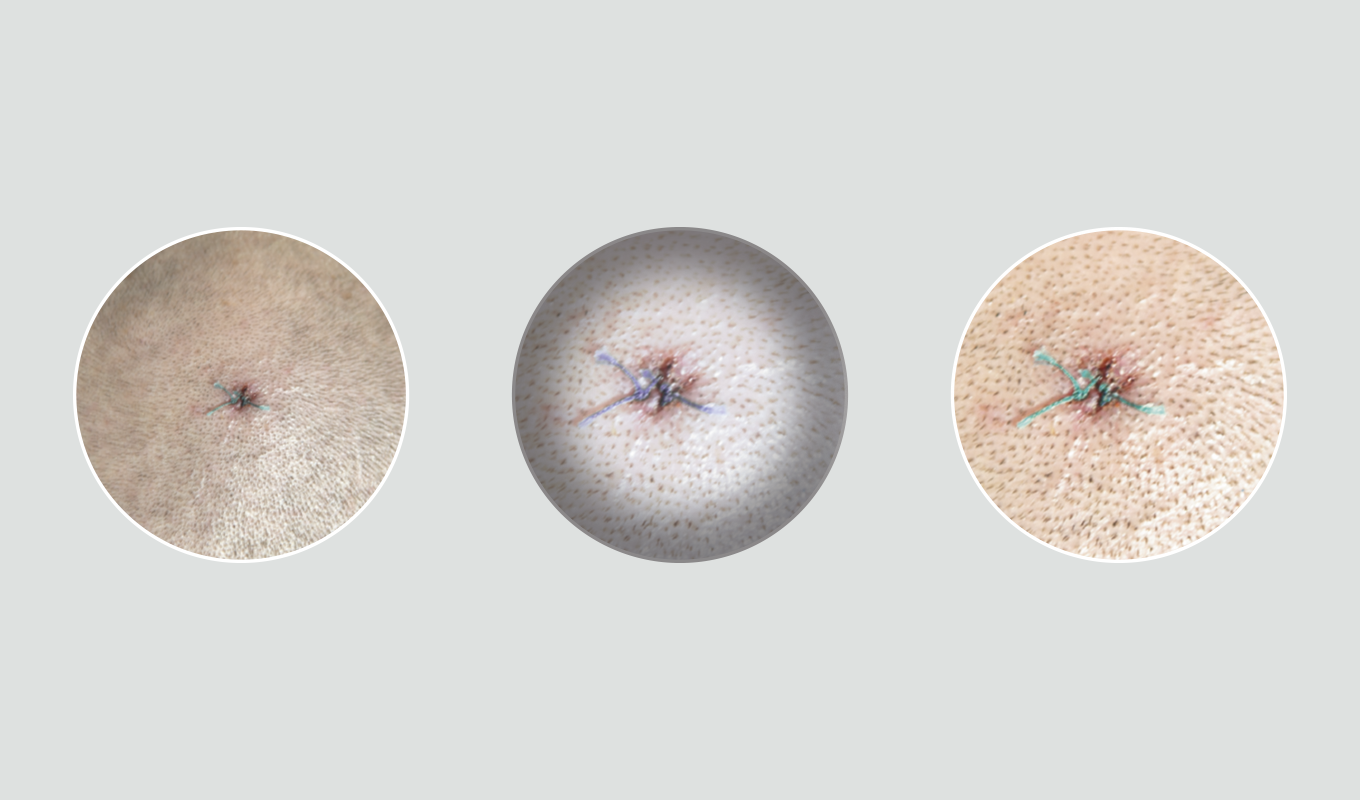 From the left: without light and without magnification, with a comparable competitor product (with illumination and with magnification), with HEINE 2.5x Binocular Loupes and LoupeLight2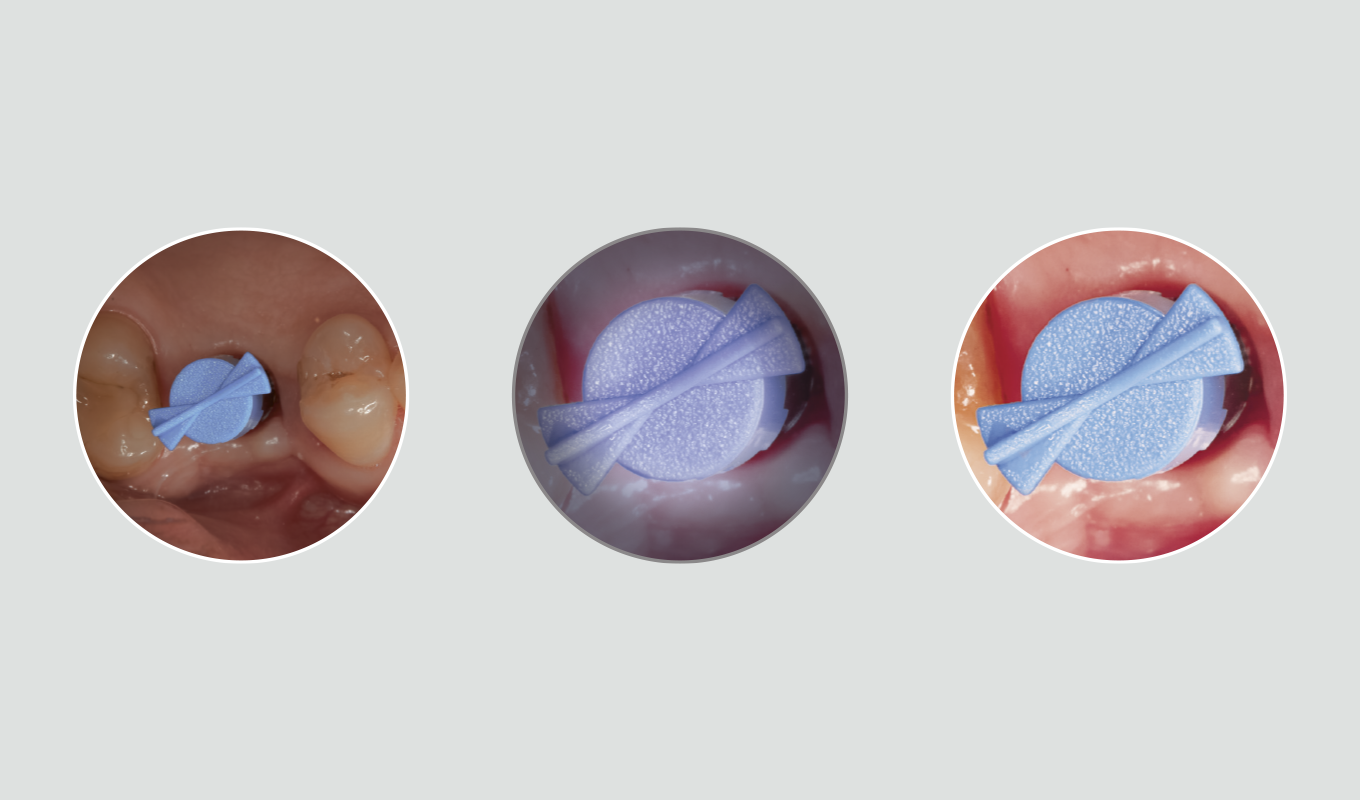 From the left: without light and without magnification, with a comparable competitor product (with illumination and with magnification), with HEINE 2.5x Binocular Loupes and LoupeLight2
Tip N° 7: Power source / Battery – practical and easy to clean
For loupes with illumination on spectacle frame, a battery pack that connects with a cable is commonly used as power source. Compact and lightweight batteries that can be worn comfortably on the body while providing unrestricted freedom of movement. Practical in everyday work: a reliable charge level indicator and flexible brightness control for optimum adjustment of the desired light intensity. Last but not least, the battery pack should be easy to clean.
For combinations of headlights and loupes worn on a headband, there is a wider choice of power sources for the illumination. Depending on personal preferences and frequency of use, you can choose between power supply simply via cable, body-worn battery packs or wireless solutions with a battery pack on the headband.
While a cable connection with plug-in transformer is available for a lower price, a battery solution certainly offers more flexibility and comfort, and a wireless solution provides maximum freedom of movement.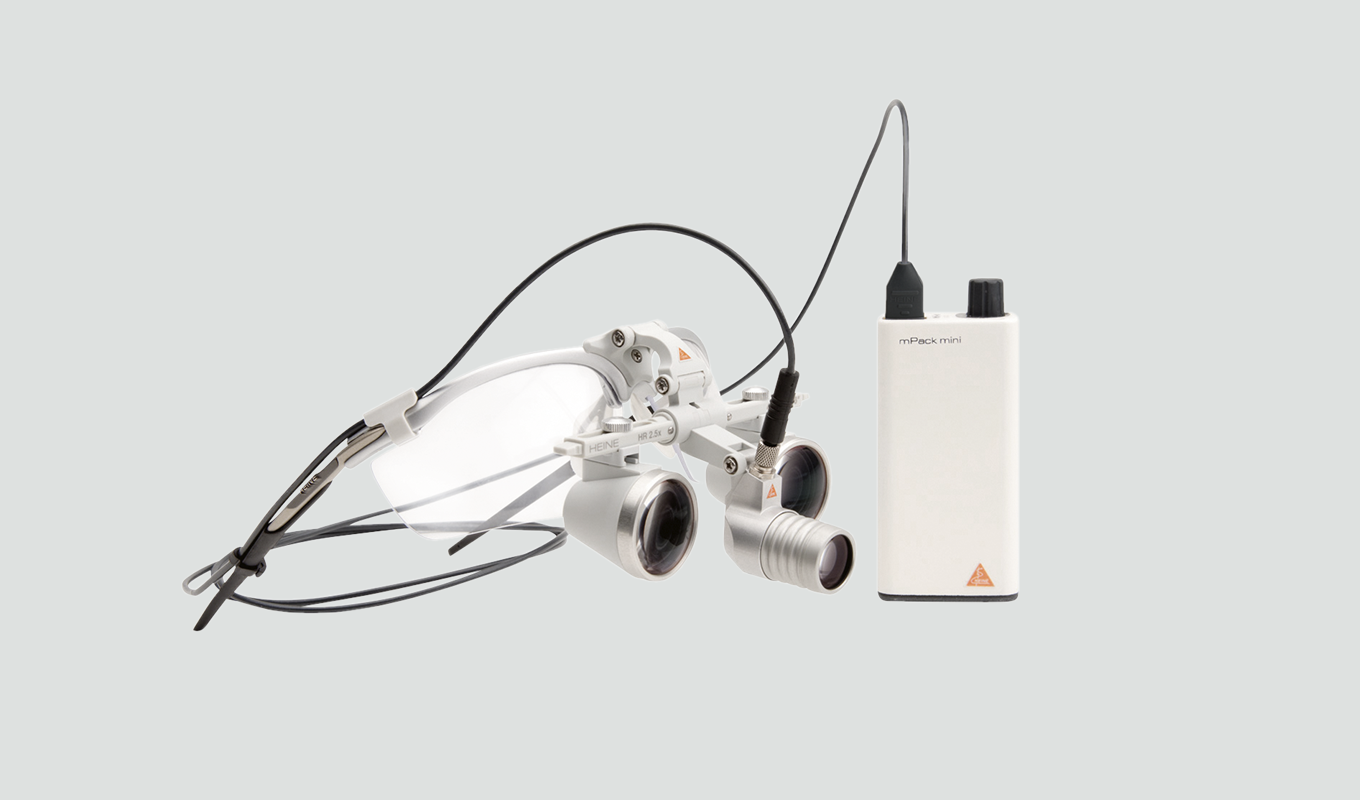 Small, light and equipped with a robust cable. The HEINE mPack mini is characterised by an operating time of up to 9 hours.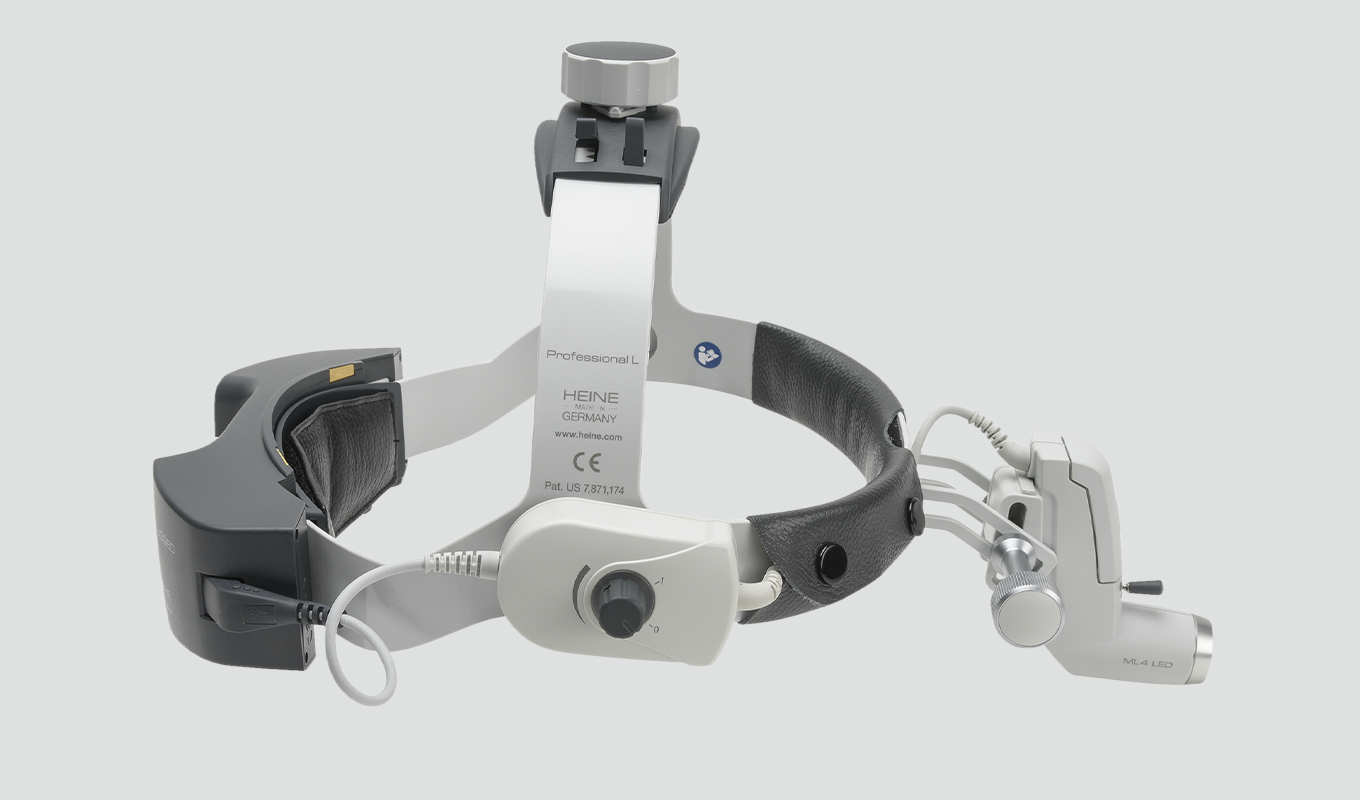 Maximum freedom of movement and a high level of comfort. The ML4 LED with mPack UNPLUGGED features a stepless light intensity control and charge status indicator.
Tip N° 8: How to wear it - spectacle frame or headband
a) Spectacle frame (S-FRAME)
An uncomplicated spectacle frame is suitable for most applications, with which a headlamp can also be combined. A spectacle frame can be quickly put on and taken off as required throughout the day. However, it is important that the spectacle frame fits comfortably and that it does not slip off during work. The S-FRAME of the HEINE LoupeLight2 for example offers adjustable soft nosepads with a large surface for good weight distribution. The retaining cord fixed on the adjustable spectacle temples allows for an even better weight distribution and a comfortable and secure fit.
Practical with the HEINE LoupeLight2​​​​​​​: the flip-up function allows the magnifiers to be swivelled upwards while leaving the light in position. This allows the user to easily switch between magnified and un-magnified views while still having illumination.
Ametropia? – A clip in correction frame for prescription glasses is available for some models like the HEINE S-FRAME.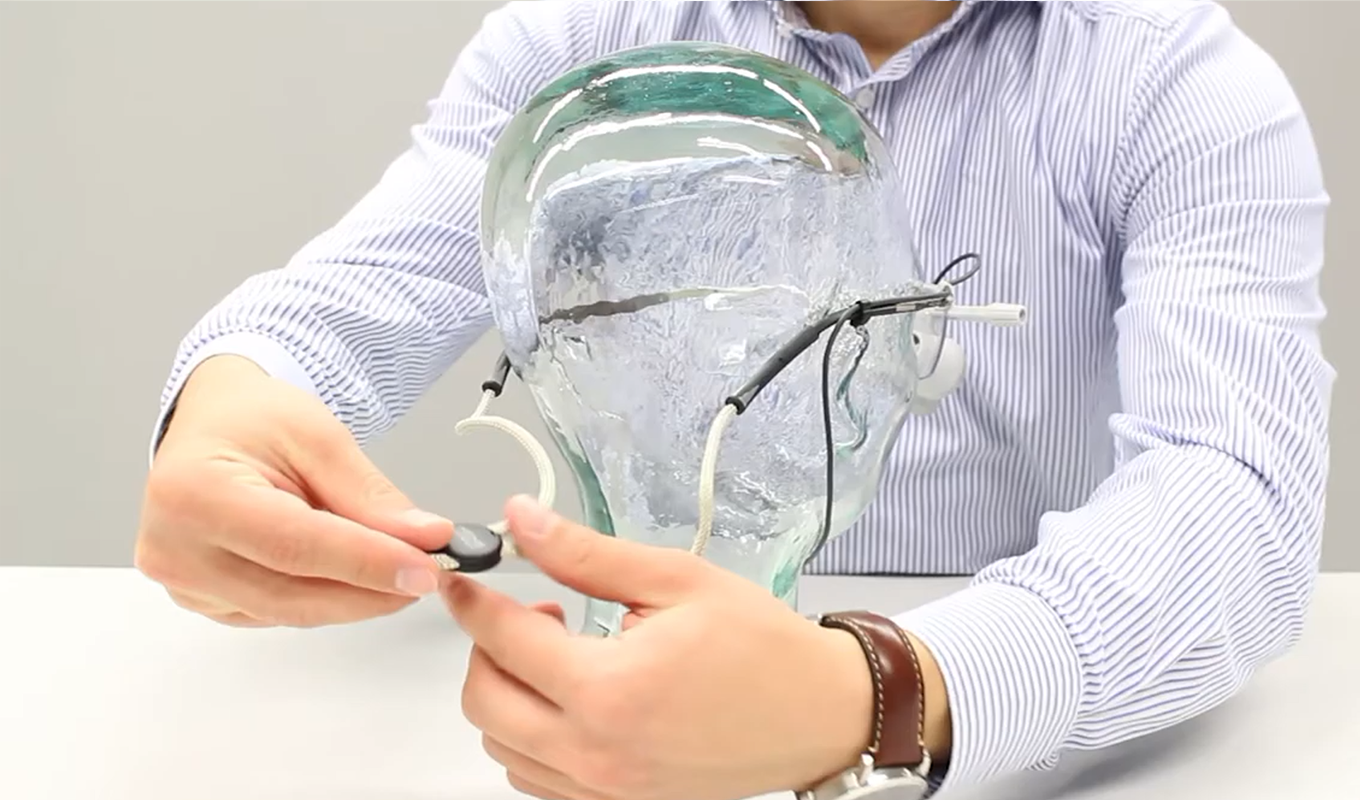 b) Headband
Binocular loupes worn with a headband are useful for longer operations or treatments. Attention should be paid to a proper fit, adjustment options for head circumference and height, as well as comfortable padding. A comfortable and stable fit allows concentrated work without slipping.
Wearing glasses? – With a headband solution, you have the possibility to keep your regular glasses on.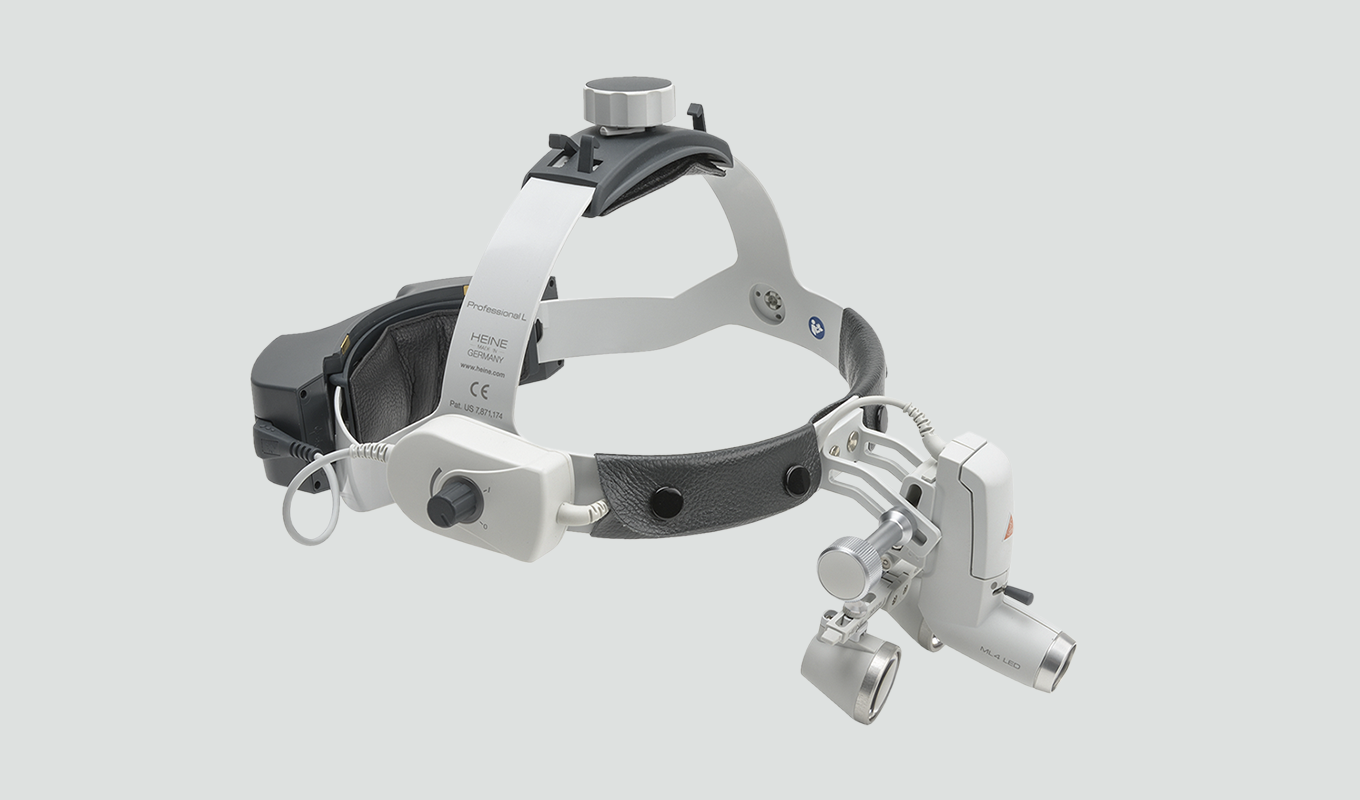 "Particularly noteworthy is the wearing comfort of the headgear, which offers a very good fit and padding compared to other manufacturers. The adjustability is also extremely comfortable, as is the very low weight".

Dr. Timm Schmidt-Mertens, Hand Surgeon at Marienkrankenhaus in Hamm, about the HEINE HR binocular loupe with headband in conjunction with the HEINE ML4 LED headlight
Tip N° 9: Configure for a perfect fit
It is worth configuring a binocular loupe to fit in every respect and paying attention to quality optics and excellent workmanship. Because the exact adjustment has a high influence on the treatment result and the well-being of the wearer. The HEINE modular principle allows to customize your binocular loupe.
Tip N° 10: Accessories that make life easier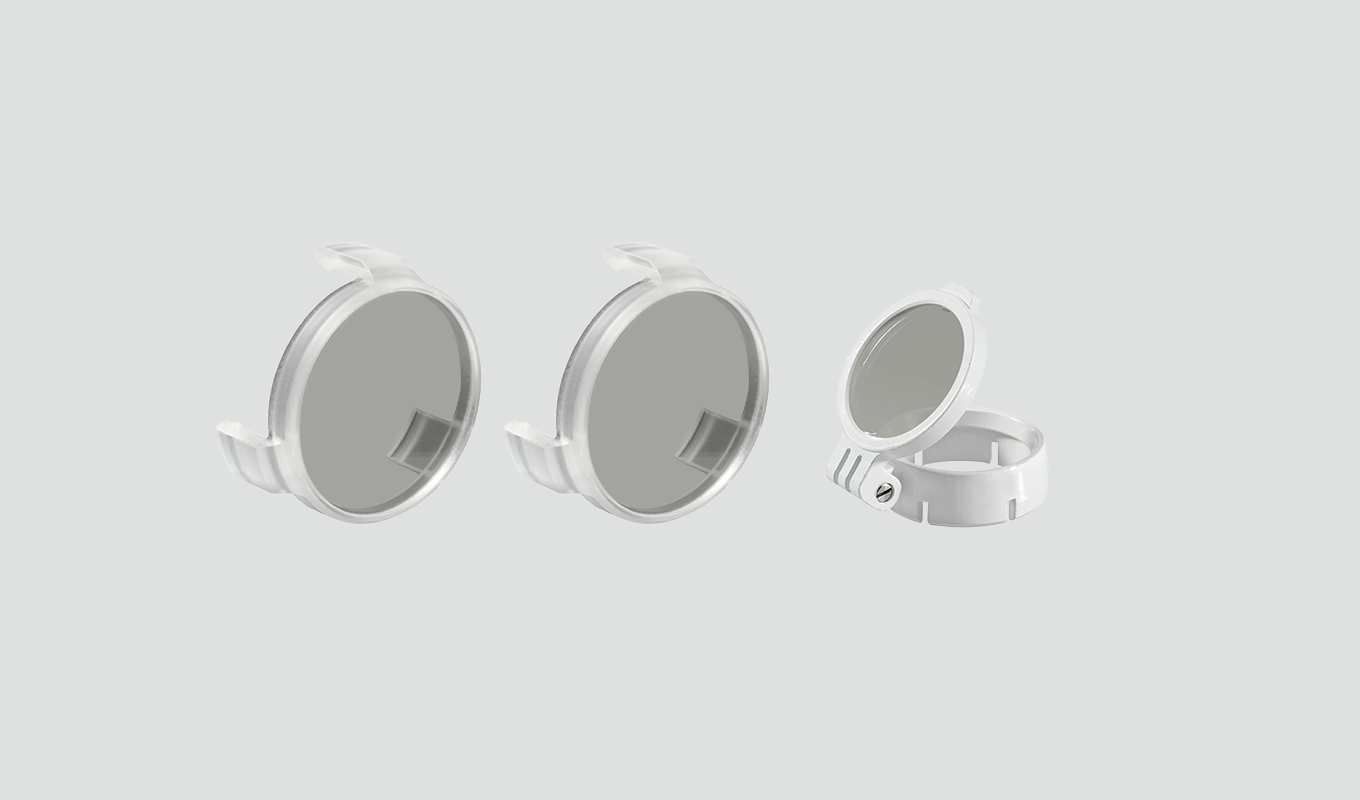 Polarisation filters
Use polarisation filters to reduce reflections.
They are available as additional options for some loupes and headlights. Polarisation filters increase contrast and minimize reflections. They also allow better visualization of veins because the upper skin layers become more visible.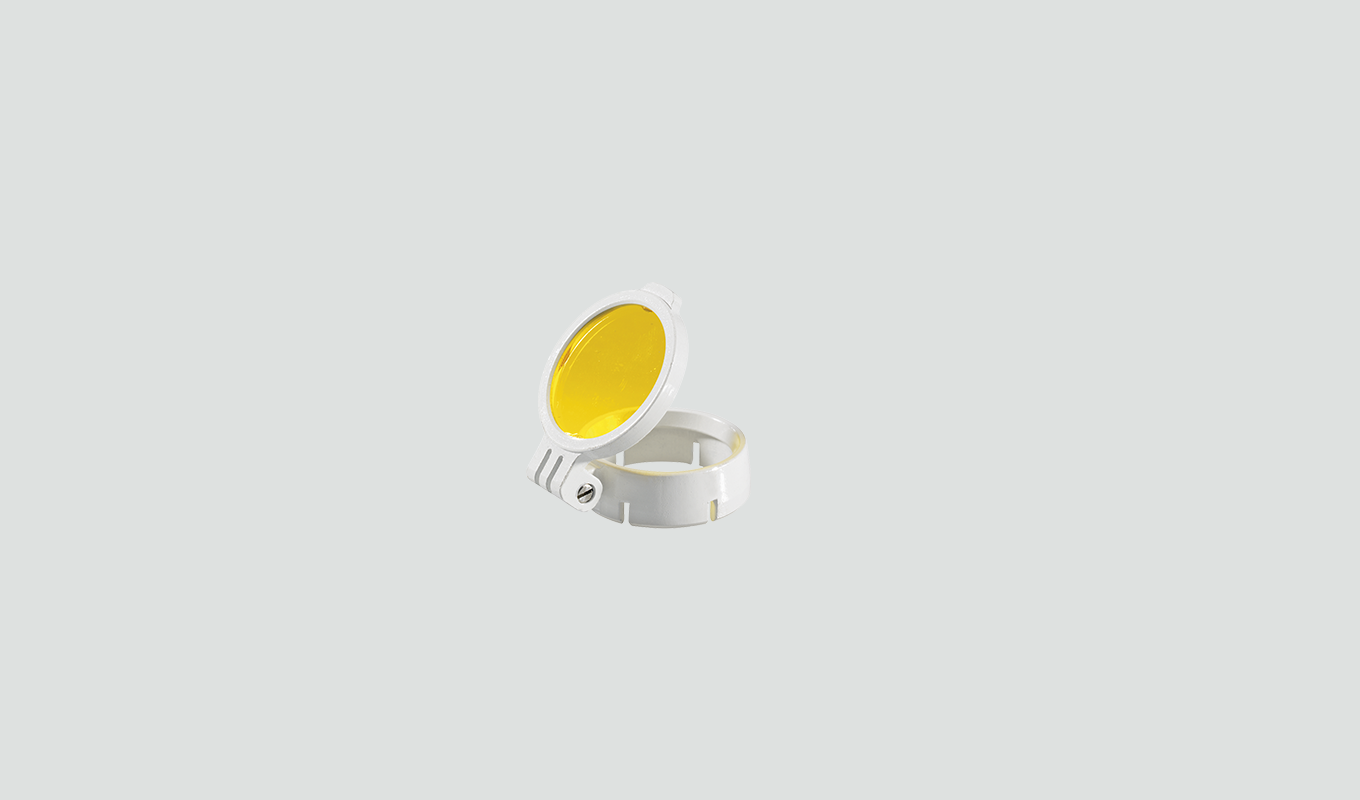 Yellow filters
The yellow filter reduces blue light. For dental applications, a yellow filter can be used, preventing premature hardening of composite materials.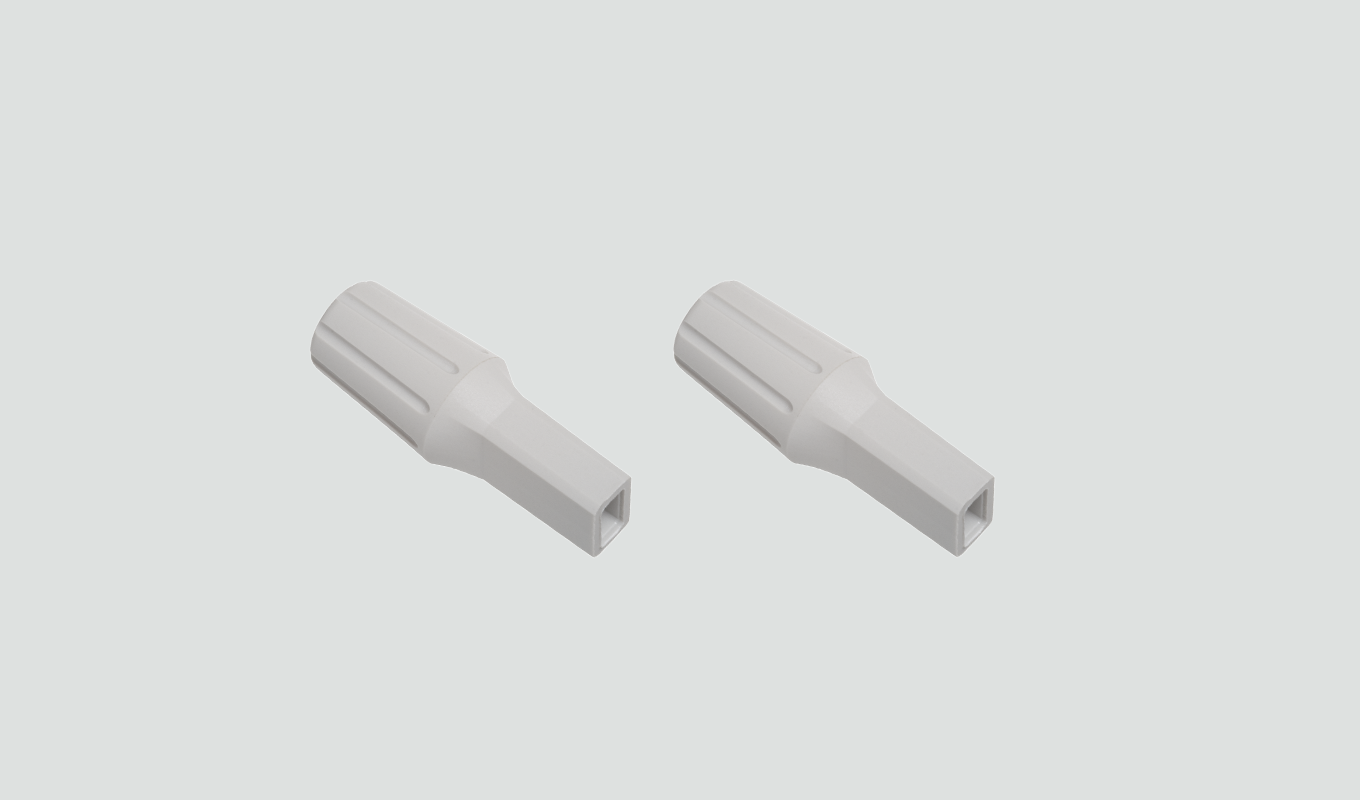 Sterilisable levers
Some loupes can be flipped up without having to take the complete frame or headband off. This allows a quick change between magnification and regular view, for example, for interaction with a patient. Sterilisable levers to operate this function are removable and prevent the operator from touching the loupe during a procedure.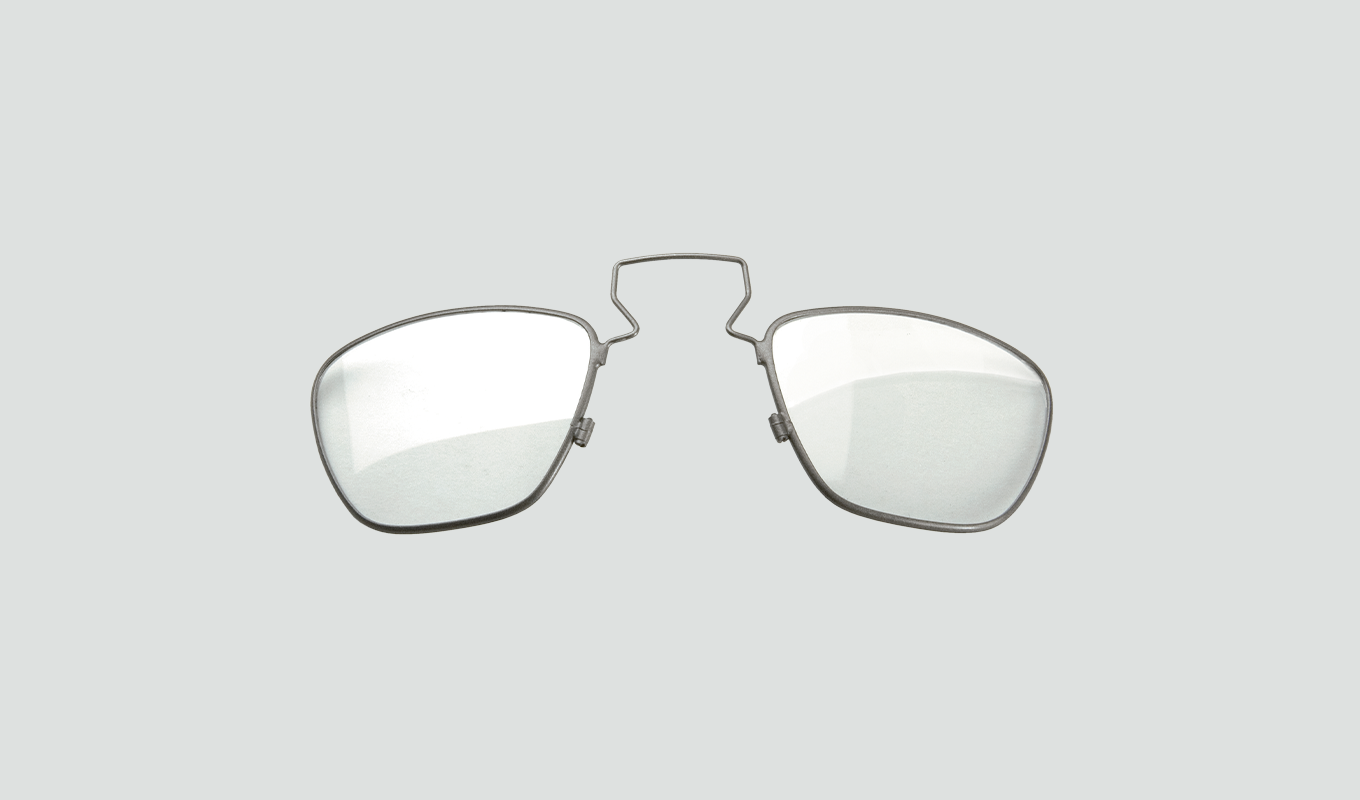 Clip-in correction frame
Many providers enable the integration of prescription glasses, often using clip-in correction frames. They might not be necessary for minor ametropia of plus/minus one dioptre as the users' vision is simply corrected by slightly increasing or decreasing the working distance. However, it is advisable to wear prescription glasses if you have major ametropia.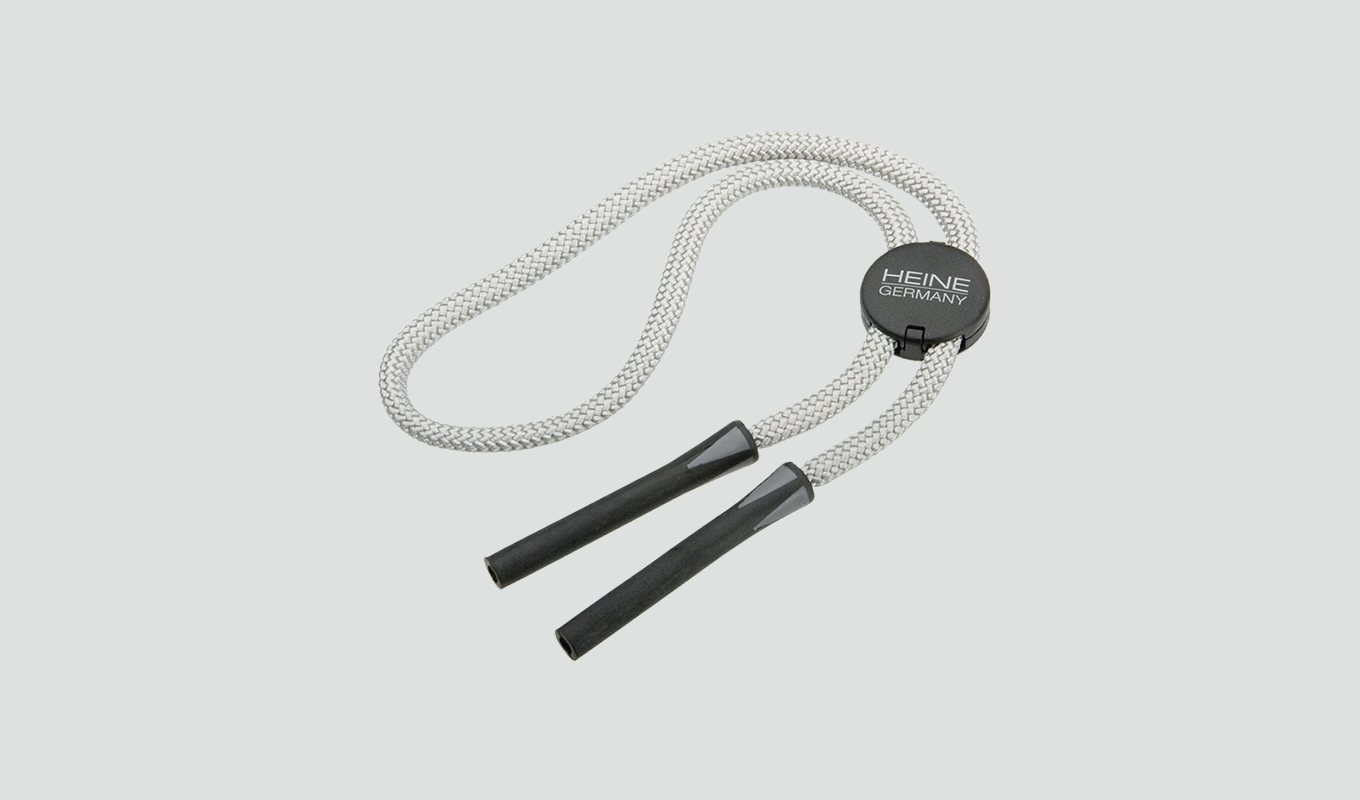 Retaining cord for spectacle frames
A retaining cord attached to the spectacle temples and tightened behind the head allows for a better weight distribution, a secure fit and more comfort.