Binocular Loupes in Dermatology
Optimum Working: Binocular Loupes in Dermatology
The use of binocular loupes can be helpful in dermatology, particularly in sterile operating environments. Not only do they relieve the strain on the eyes during longer operations, but they can also help to achieve an optimum surgical result during difficult microsurgical procedures. The correct magnification and good light quality are crucial factors in this regard. The HEINE LoupeLight2 allows you to individually select the magnification according to your particular needs – with outstanding light quality and clear-cut illumination of the operating area. But there are still other criteria you should consider when choosing between binocular loupes with or without a headlight.

In dermatology, binocular loupes with integrated illumination are generally used for operations and sclerotherapy procedures. When it comes to selecting a suitable model, doctors should pay particular attention to the perfectly coordinated combination of illumination and optics.

Illumination: Daylight-quality colour rendering and homogeneous, bright exposure
Headlights now come fitted with LEDs as standard. High-quality luminaires provide natural colour rendering, similar to daylight. A luminous intensity of around 55,000–65,000 lux, measured at a distance of 25 centimetres, is a tried-and-tested outstanding feature of illuminated binocular loupes (LoupeLights) and headlights. It enables even the slightest of differences to be detected with ease. Homogeneous illumination, which evenly illuminates the entire light cone right to the edges, also makes work easier.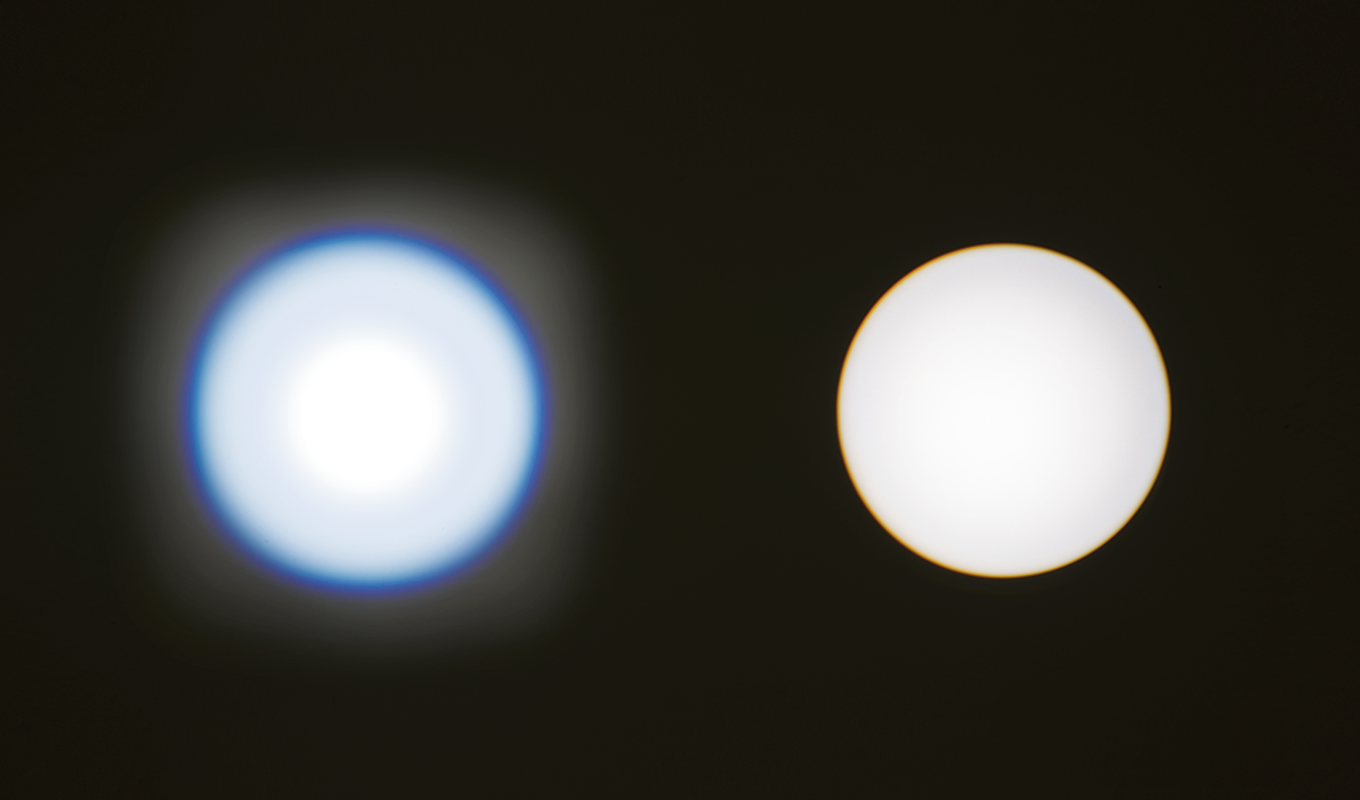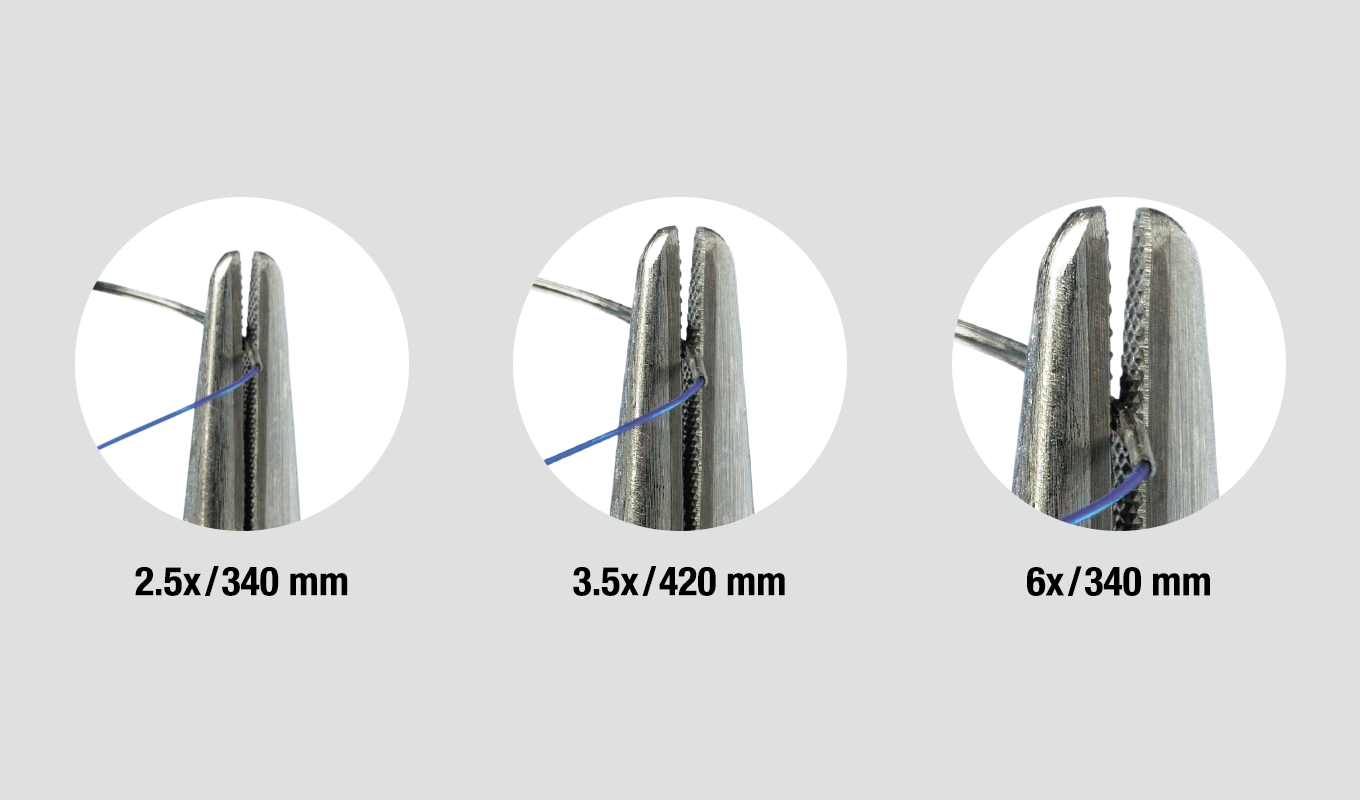 The optical properties of binocular loupes
Four interacting criteria determine the properties of binocular loupes: magnification, overview field, depth of field and working distance.
Generally speaking, the highest magnification isn't necessarily the best. The lower the magnification, the easier it is to work effectively with the binocular loupes, since they provide a larger overview field and a higher depth of field. The depth of field is the area in which the image is in sharp focus. Binocular loupes are also designed for different working distances – in other words, the distance at which a sharp image becomes visible, starting from the loupes. This means that taller people standing up need a longer working distance than shorter people sitting down. Experience has shown that double or triple magnification at a working distance of 420 millimetres is ideal for most surgical activities in dermatology.
Quality optics provide a distortion-free representation of the overview field, right into the edges, when looking through the binocular loupes. Achromatic lenses enable clear-cut magnification without any unintentional colour gradients at the edges of the field of vision (rainbow effect).
Switching between the overview and detailed view is easy
To switch between the detailed view and the normal overview field, the surgeon can directly look over the binocular loupes under sterile conditions – in the same way as you would do when wearing reading glasses. Alternatively, HEINE offers its LoupeLight2 with the practical flip-up element – which the assistant can quickly fold up (and back down again) in the sterile area.

Reducing reflections with polarisation filters
As optional extras for headlights and binocular loupes during dermatological procedures, polarisation filters increase contrast and minimise reflections (image to the left). In sclerotherapy, they allow users to see veins even more clearly, because the upper layers of the skin become more visible.

Individual setting options
Binocular loupe systems should be individually adapted and adjusted to the user. Many providers also enable the integration of prescription glasses, often using clip-in correction frames. But in practice, prescription glasses often are not necessary for minor ametropia of plus/minus one dioptre. 'Users' vision is corrected simply by slightly increasing or decreasing the working distance from the object – around 2.5 centimetres per dioptre.' However, it is advisable to wear prescription glasses if you have major ametropia.
A retaining strap at the back of the head can provide relief, particularly when working for extended periods of time, so the weight of the glasses is not just resting on the nose alone. Alternatively, binocular loupes fixed on a headband make working a more comfortable experience when they're worn for extended periods of time.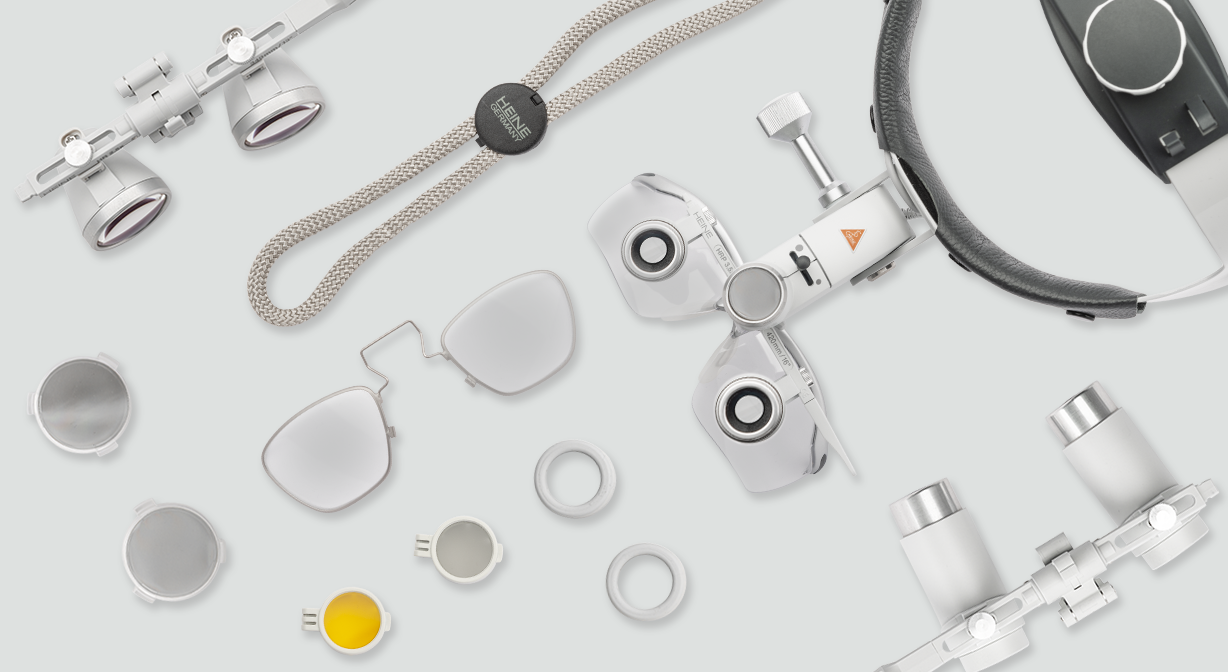 Individually configurable: Binocular loupes and wearing options
HEINE offers a variety of different magnifications (2.3x to 6x), working distances, wearing options (S-FRAME, Lightweight and Professional L headband) and illumination systems for use in dermatology.
You will find tips on combining loupes and lights in HEINE binocular loupes in this HEINE YouTube video.